On May 14, Skydive the Wasatch hosted its 3rd Annual Addict II Athlete Skydive the Wasatch Event. We highlighted the event prior to this year's meet-up in a blog post you can find here.
In short, Addict II Athlete is a non-profit recovery support group for individuals and their families who struggle with addiction and mental health. Addict II Athlete uses exercise and other action-based methods as a way for their participants to replace their old, negative behaviors with positive ones. For the past three years, the Uintah Basin Chapter of Addict II Athlete has chosen Skydive the Wasatch as a hosting ground for one of their fundraising events. They chose skydiving as an activity for their members to enjoy because of the similar endorphin release it provides to that of drugs, but also, because of the lessons that skydiving can teach. We at Skydive the Wasatch are so grateful to host this group.
"It means so much to us to be able to work with Addict II Athlete," Skydive the Wasatch owner, Leon Roullard, said. "These are not just people coming to skydive. These are people coming to skydive with the hopes that this experience will change their lives forever. The coaches have talked about providing a sport that will give them a rush and a natural high. People can open their eyes and realize that there is so much more to life than drugs and alcohol and instead of falling back to those they will choose to seek the natural high."
This year's Addict II Athlete Skydive the Wasatch event consisted of 38 tandem jumps along with 15-20 spectators, an inspirational meeting on overcoming fear hosted by Addict II Athlete coaches, and a giant barbeque.
Following this year's event, we caught up with long-time Addict II Athlete member and 3-year skydiving participant, Rob Rich, about his experience with the Addict II Athlete Skydive the Wasatch event.
Rich had many takeaways from his experience. A few include learning how to overcome fear, learning how to trust and rely on a support system, and gratitude for a new way of living.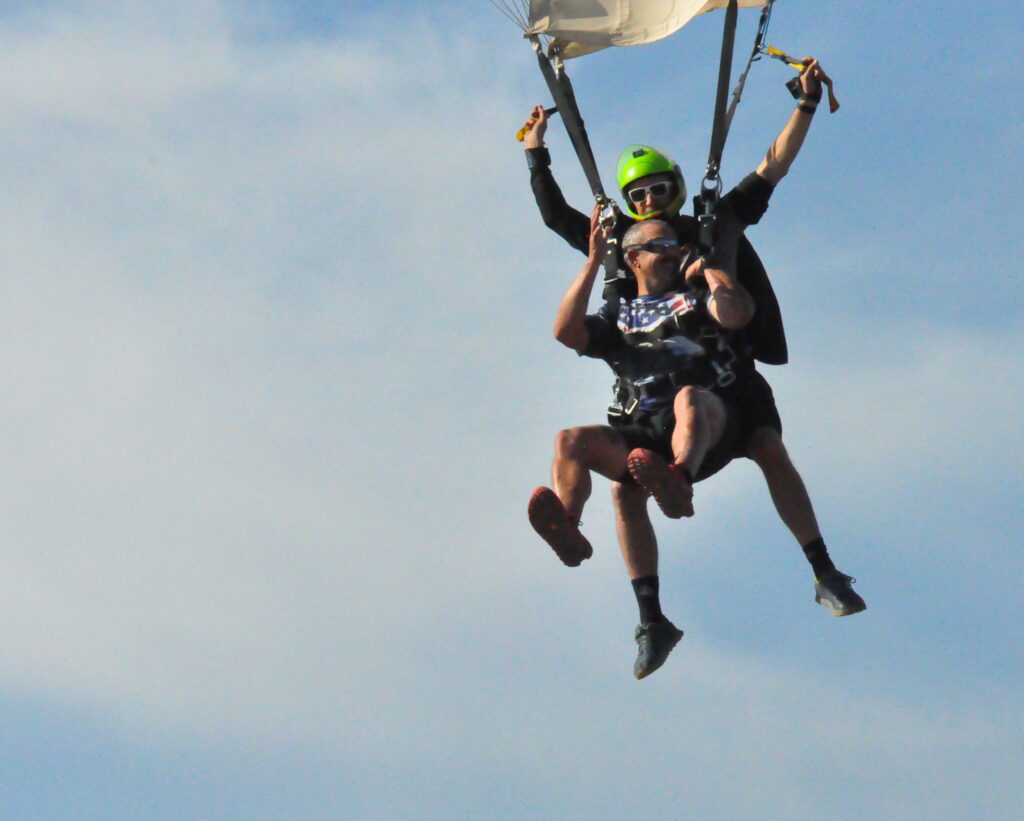 "I'm very grateful for Skydive the Wasatch and the opportunity they give us to participate in things we don't normally get to," Rich said.
"One thing I love about it [skydiving]- it gets me out of my comfort zone… It gives me the push to do things that are hard. I love the enjoyment of the adrenaline rush of doing things this way. Being addicts, we used to have an adrenaline rush another way. This is a completely different adrenaline rush, doing things that are better for us, helping us achieve different accomplishments."
Rich described his first year at the event as being very nervous, especially with it being his first time skydiving. His second year, he was more comfortable but had a bad experience due to being on an all-liquid fast diet. This year, Rich got to experience skydiving in all its beauty and take in a deeper meaning of the lessons taught by his Addict II Athlete coaches.
"This year I just let go of everything and loved the whole experience," Rich said.
When asked about this year in comparison to previous years, Rich said the main thing he learned over the years was how to have trust in others.
"One thing [I noticed] when I started looking into the skydiving event, first time and each time since, you have to have a lot of trust. First of all, in the company you're doing it with, the guys that you're jumping with, and then the equipment, that it's going to work," Rich said.
Rich used Greg, our senior parachute rigger as an example.
"Greg, he packs the parachutes. The trust that you have to have in somebody like that to make sure that equipment is going to work properly. Just like life, you have to trust someone to get you through the hard times in life," Rich said.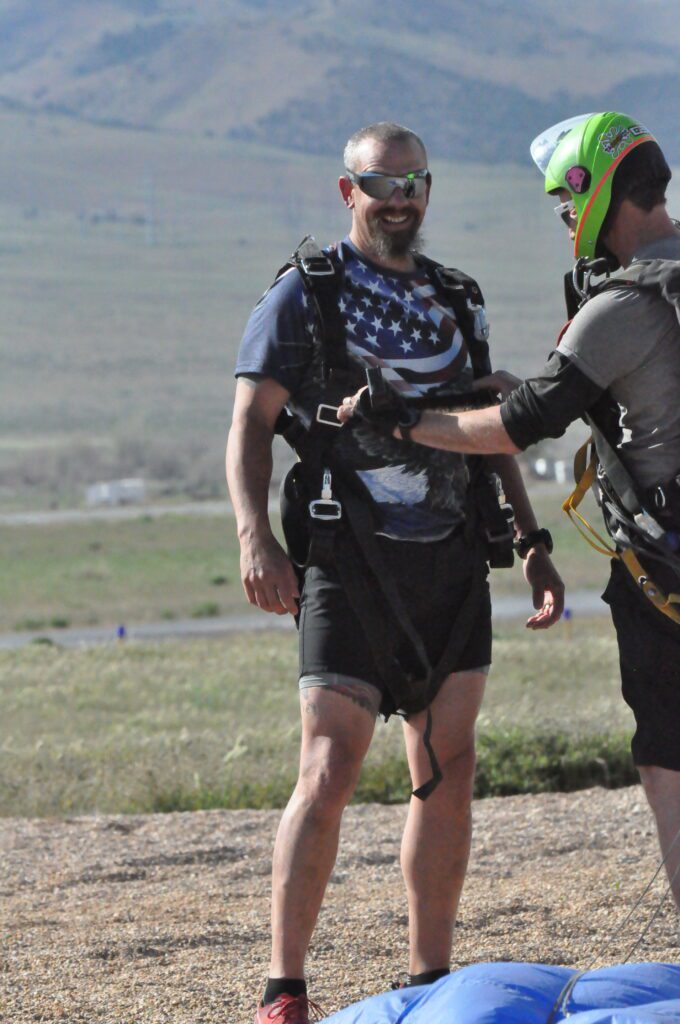 Rich also shared how it felt good to be a veteran there to support newer members and individuals who were experiencing their first skydive.
"It's good to have people that have been there before to encourage those who haven't. They are so new, [they] haven't done it before," Rich said.
"Just like everybody in recovery, we all need the help and support from anybody that's been there."
We at Skydive the Wasatch have noticed the effect veteran jumpers and Addict II Athlete members have had on newer members at the event as well.
"The excitement of the veterans is contagious and the newcomers feed off that as they get ready for their own jumps," Skydive the Wasatch owner, Roullard said.
Rich said his favorite part of this year's event was watching Leon [Roullard] jump with an American flag and being a part of an older lady's bucket-list item.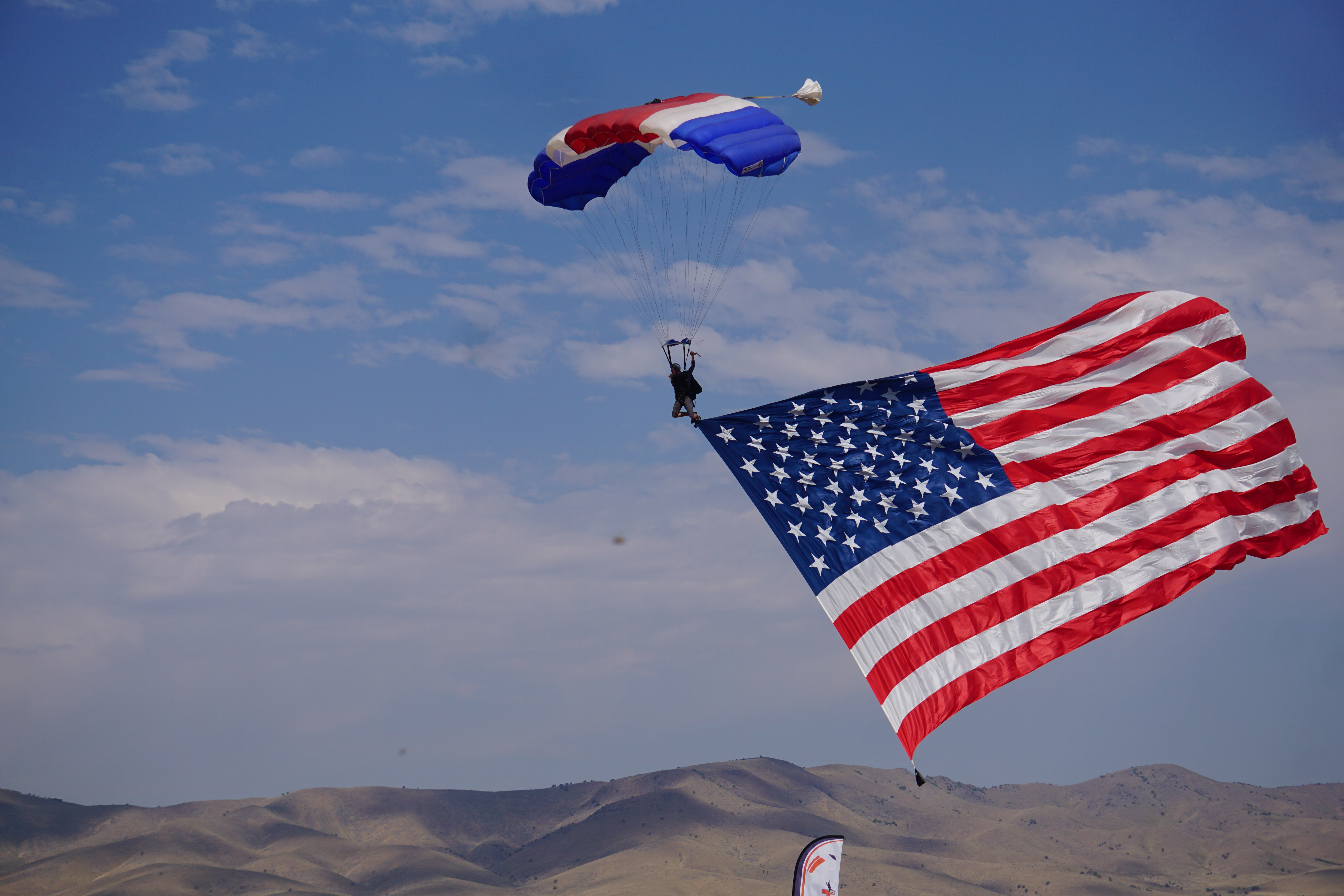 "I'm a very patriotic person," Rich said. "One of my biggest highlights, especially this year, was seeing Leon jump out of the plane with the American flag- [the] flag soaring in the air. I love my country, love the service men and women."
"…All the new people that come into our Addict II Athlete group, making new friends, and seeing them experience this kind of stuff for the first time. There was a 70-75 year old lady who did it. It was her bucket list item. The look on her face when she was done and the team building that's done when we're there is just amazing."
Skydive the Wasatch is proud to be a part of the annual Addict II Athlete skydiving event. The combination of repeat participants and new participants has made each year unique in its own way and we're excited to host the Uintah Basin chapter for many years to come.
For more information about Addict II Athlete, you can visit their website at www.addictoathlete.org.
Are you interested in hosting a group event at Skydive the Wasatch? We'd love to have you! Fill out our form here or contact us by phone at (385) 321-0284 or email at info@skydivethewasatch.com.
To stay in-the-loop on other upcoming events, please subscribe to our blog!