For the 3rd year in a row, Skydive the Wasatch and the Uintah Basin chapter of Addict II Athlete have joined forces for an all-day Addict II Athlete Skydiving Event.
Addict II Athlete is a nonprofit organization that assists individuals touched by addiction and mental health. Addict II Athlete was formed as an alternative to other recovery programs and is built on a model of "erase and replace." Their mission is to establish and maintain recovery by promoting lifestyle changes through erasing negative behaviors and replacing them with positive ones. They implement this through support meetings, group workouts, marathons, and events like skydiving with Skydive the Wasatch.
James Johnson, the leader for the Uintah Basin Chapter of Addict II Athlete said that he noticed after a couple years, addicts tended to fall off of typical AA or NA 12-step fellowship groups. Addict II Athlete provides a new way for those individuals to recover while incorporating healthy lifestyle habits.
Founded in 2011 by Blu Robinson, Addict II Athlete is a nationwide action-oriented nonprofit group with multiple chapters in the U.S. as well as some in other countries. Addict II Athlete focuses on goal attainment for their participants, who are not only addicts, but also friends and family members and anyone affected by addiction and mental health.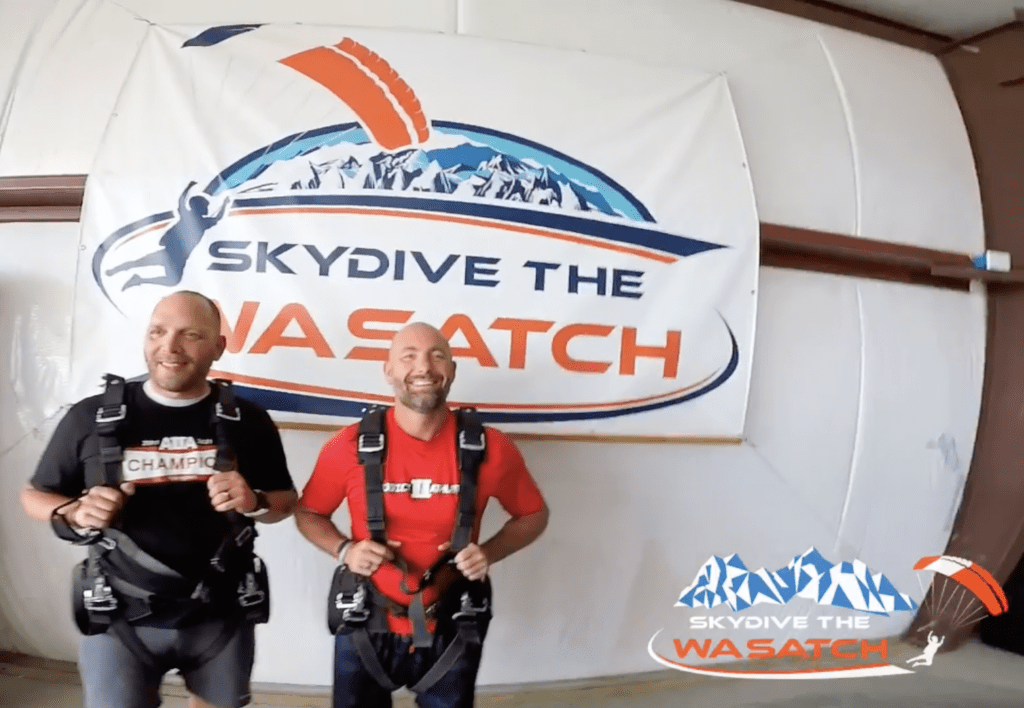 Johnson, the leader and fitness coach of the Uintah Basin Chapter of Addict II Athlete faced his own addiction issues and was introduced to the Addict II Athlete program while in prison for armed robbery. When Johnson was released, he took on running as a way to cope with his addiction and mental health issues and would post videos online about how to deal with anxiety through running. Shortly after, he started the Uintah Basin Chapter of Addict II Athlete so that he could help others recover from addiction through athletics and a positive support network.
"When I started the chapter, I had the desire or thought to help people experience a new, healthy way of combating their past," Johnson said. "I wanted to help people erase poor decisions and replace it with something of value."
On May 14, Johnson is teaming up with Skydive the Wasatch for Addict II Athlete's annual day of leisure, recreation, and skydiving. Johnson chose skydiving as an activity for his Addict II Athlete students because skydiving gives a similar endorphin release to drugs, but more importantly, because of the lessons his students can be taught through skydiving.
"Skydiving helps you overcome fear," Johnson said. "It teaches you faith and commitment."
Each year, Johnson has picked a different lesson for his students to learn during their Skydive the Wasatch event.
"Last year, it was overcoming fear. Year before, it was commitment. This is the 3rd year the event has been done," Johnson said.
When asked why he chose Skydive the Wasatch as the place to host the event, Johnson said he initially chose Skydive the Wasatch because of its premier location to Mount Nebo, the tallest mountain on the Wasatch Front, but has continued to host the event there because of the support that owner, Leon Roullard, and his team have provided to his group. 
"It is so enjoyable to see the lights come on for these folks as they realize just how great skydiving feels," Roullard said. "The moment they realize that life without drugs can feel this good."
The upcoming Addict II Athlete skydiving event will take place at Skydive the Wasatch on May 14, 2022. This full-day-long event is for recovering addicts and their friends and family to get together, watch loved ones jump, and support each other in their recovery.
There will be an Addict II Athlete meeting both before jumpers take off for their skydiving experience and while those who have chosen to jump are skydiving. Food and other activities will also be provided throughout the day.
The Addict II Athlete Skydive the Wasatch event is open to everyone. This year, Johnson has even joined forces with local law enforcement officers and military.
"The Chief of Police is coming, APP (Adult Probation and Parole) officers, military, highway patrol," Johnson said.
"We're trying to get them to stop playing cops and robbers. This event allows us to come together as one."
The Addict II Athlete Skydive the Wasatch Event will start around 7:45am and will last until all jumpers are finished.
For more information about Addict II Athlete or their event with Skydive the Wasatch, reach out to James Johnson at (435) 724-7733 or Leon Roullard at info@skydivethewasatch.com.
Want to plan an event at Skydive the Wasatch? We're the hottest spot to throw a party! Give your guests a memory they'll never forget! Plan your birthday party, corporate event, bachelor/bachelorette, or anything you can think of, at Skydive the Wasatch! We specialize in working with large team building organizations like Train Invictus and many others! Want more info? Give us a call at (385) 321-0284 or send an email to info@skydivethewasatch.com.