Skydive the Wasatch: The #1 Tandem Skydiving Dropzone in the Country!
Are you interested in going skydiving but having a difficult time picking the company to go through? Look no further! Skydive the Wasatch is not only the best skydiving dropzone in Utah, we're the best in the U.S.!
What Makes Skydive the Wasatch Unique?
1. The Best Views in the Country
Skydive the Wasatch is located conveniently in Nephi, Utah, close by to big cities like Provo, Park City, and Salt Lake City. We are located in the heart of the Wasatch front, and surrounded by the majestic Utah terrain. What better way to explore the nature and wilderness of Utah than with a view from thousands of feet in the air?
Skydive the Wasatch's freefall scenery is unmatched. Due to the unique topography of the Wasatch Front, we're perfectly placed next to the nearly 12,000 foot mountain peak of Mount Nebo, the tallest peak on the Wasatch front, while also being next to a wide open farm valley that stretches into the desert.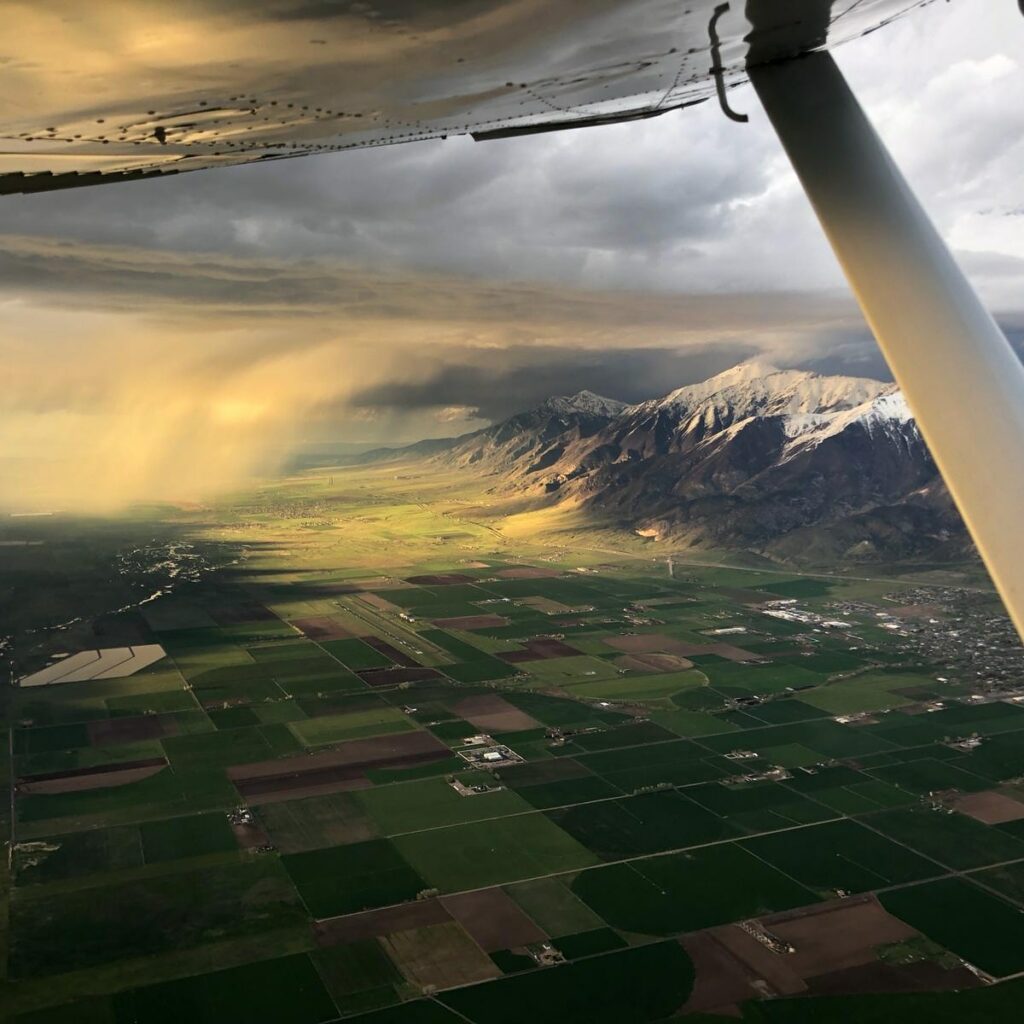 The proximity to the mountains and other remarkable terrain is unparalleled at Skydive the Wasatch. We're the closest you can get to Mount Nebo and the Wasatch Front when it comes to tandem skydiving dropzones in Utah. The view is especially unique because of the contrast between the high alpine peaks and beautiful desert valleys. Jumpers love this about Skydive the Wasatch because it allows them to give context to the magnitude of jumping out of an airplane.
Before your jump, our pilots will give you a tour of the landscape below, which includes the red cliffs of Nephi, the little Sahara Sand Dunes, Salt Creek Peak, Bald Mountain, the Mona Reservoir, and much more!
To make your skydiving experience even more unforgettable, we bring you above the peak of Mount Nebo for your jump. That's right! You're above the tallest peak on the Wasatch Front when you jump out of the plane!
In a 5-Star Google Review, Jared Farmer wrote:
"Skydive the Wasatch was such an awesome experience! About an hour south of Salt Lake, where you leave behind the smog/inversions for a skydive with great views. In the plane ride up, we saw Utah Lake, the Little Sahara Sand Dunes, and flew over Mt Nebo…It was our 1st time skydiving and we'd definitely do it again. It's hard to describe the experience other than exhilarating and fun!"
Another 5-Star Google Review from Jesse Richmond reads:
"ABSOLUTELY EXHILARATING! Make the trip to Juab County. Leon and the Crew down in Nephi are fantastic. Leon punched my "jump card" if you will… Leon will show you a great time and leave you satisfied and smiling. You never forget your first time. So let your first time be the breath taking views of the peaks of Mt Nebo, and the sand dunes of little sahara out to the West."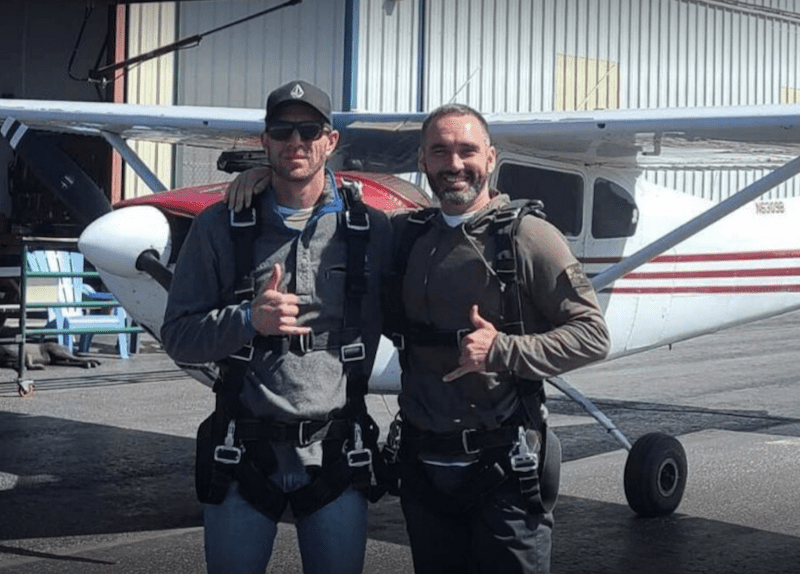 2. Best Tandem Skydiving Instructors & Staff
At Skydive the Wasatch we understand that each person who comes through our doors is there to have an unforgettable experience and potentially a life changing one. Our staff is dedicated to making that happen.
Family owned and operated since 2014, Skydive the Wasatch provides a comfortable atmosphere with personal touches that one can only get from a small business.
"We make a point to treat each tandem student as one of our family members and encourage them to be present and involved in their first skydive experience," Owner, Leon Roullard, said.
Skydive the Wasatch instructors, riggers, and jump pilots have a combined 50+ years experience in the skydiving industry. We take pride in not only hiring the best individuals for the job, but also those who make an extra effort in welcoming our students, keeping them at ease, and adding a few laughs to your skydiving experience.
Below is a 5-Star Google Review from Tara Pursel: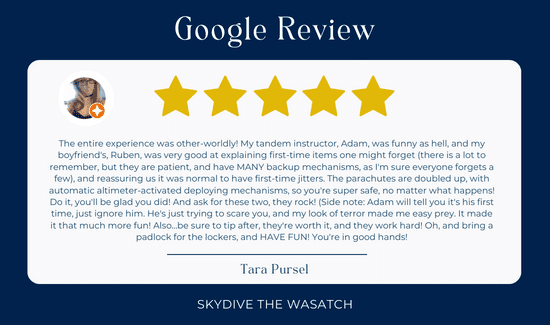 Another 5-Star Google Review from April Anderson reads:
"What an exhilarating experience! This was my 3rd tandem jump, but 1st with Skydive the Wasatch. The staff was friendly, funny and felt like home. They listened and offered a variety of options. The crew were awesome to talk to, professional & so much fun! The pilot, Andrew got us right up in the air quick and the instructor (mine was Adam) was personal & fun , videoed us with the go-pro and got some sick footage of the entire experience. The flight went right over Mount Nebo before turning around for the jump. I felt comfortable the entire experience and would go back and jump with this crew any day! Highly recommend Skydive the Wasatch!"
See below a 5-Star Facebook Review from Nichole Sumpter Bird: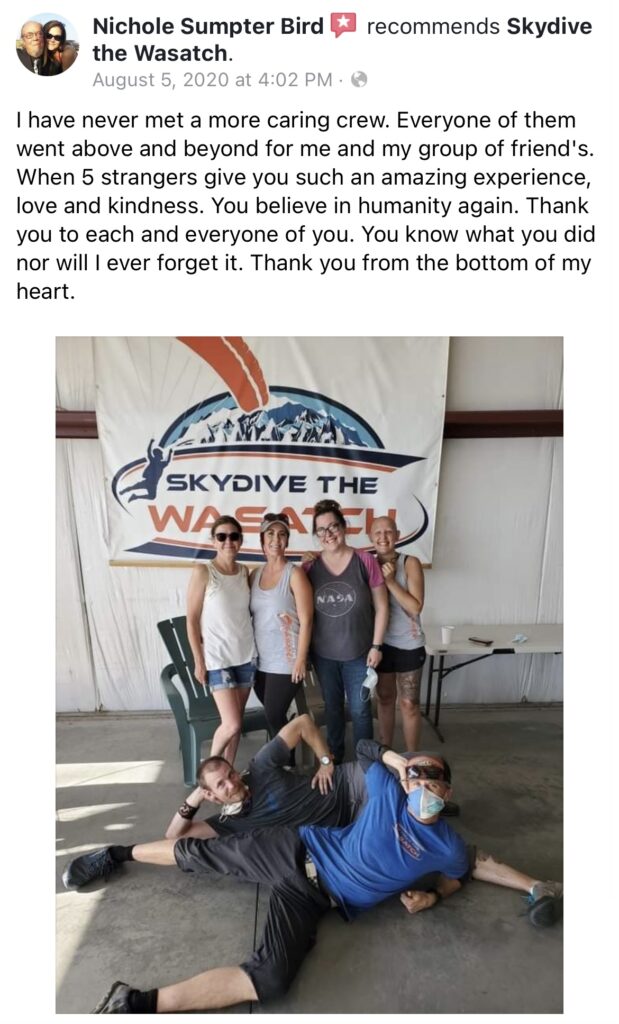 In addition, our staff members love what they do! The only thing we love more than skydiving ourselves is sharing the skydiving experience with others.
Our front desk receptionist, Brenda, wrote on a recent Facebook post:
"I've been working at Skydive the Wasatch for just over a year now. This week I was asked what makes this dropzone the best place to skydive. I love working here for many reasons. But there is one that has been stuck in my mind for a while and I thought I should let the world know.
A week ago we had an engagement jump. The girl had no idea what was about to happen. She thought the skydive was a graduation present. It made me tear up when I watched her land and walk over to her fiancé who got down on one knee and asked her to marry him. As they left I imagined her getting together with her friends and family and start planning her wedding. This was the beginning of their life together.
In that same week we had a man come in who did a last wish sort of jump. This man has a terminal illness and a friend paid for his skydive. He smiled and laughed the whole skydive. I showed him his free fall video and he just smiled and said "I'm gonna have them play this at my funeral."
One week, 3 first time skydives, 3 people planning their future. But the planning was very different. The couple will be planning the beginning of the rest of their lives and the man is planning the end of his. I am honored to be a part of something like this. When you skydive with us we get to know you a little bit. You are not just a number to us. We want to know what led you to skydive. We want to know what's next in your life. We want to know YOU.
And that's what makes us the greatest place to skydive!"
3. Skydive the Wasatch has Multiple Unique Features
At Skydive the Wasatch, skydiving isn't the only thing we offer! Have a family member that's too scared to try? Or friends that just want to watch? No problem!
Skydive the Wasatch is located on J. Randy McKnight Nephi Municipal Airport which has a variety of aviation activities to enjoy. Your loved ones can relax under the airport hangar and watch you as you freefall, or they can enjoy one of the other activities going on at the airport. You'll often find sail plane operations put on by the Utah Soaring Association, aerobatic stunt pilots, helicopters, and even hot air balloons.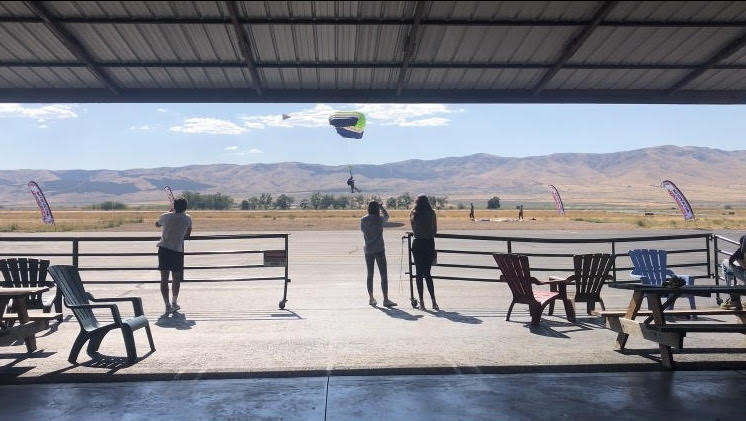 A 5-Star Google Review from gamehunter07 reads:
"It was an awesome time!! Very professional and a good time for a great price!! The views of Mt. Nebo are spectacular and the staff and hangar are very friendly and a good place to just kick it. They make you feel very comfortable and safe. Leon and the crew are to notch. If you can ride a roller coaster, you can do this !! It was my first time and I recommend everyone try it out at least once, but as I know it's just like a Lays potato chip, you can't have just 1."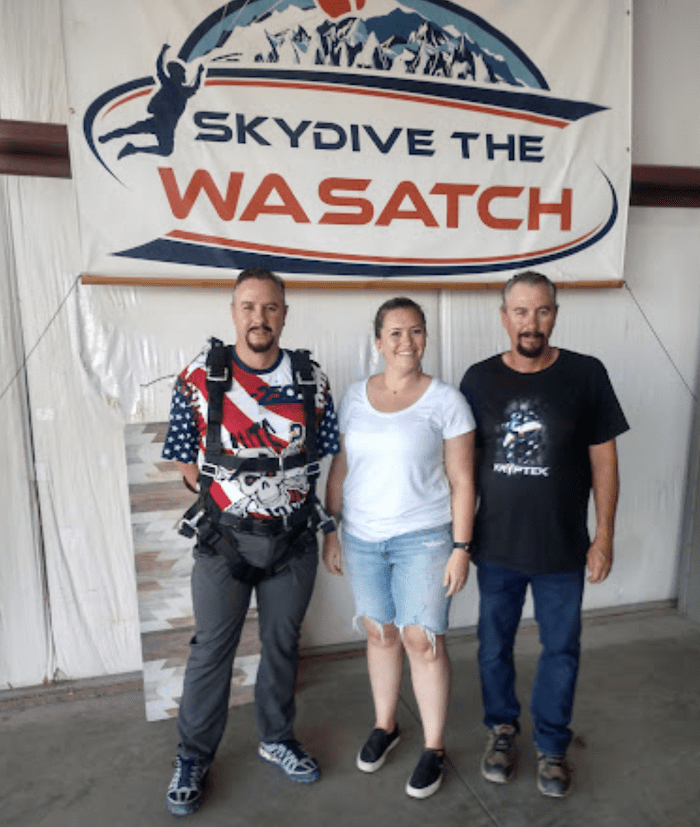 2. We use a Cessna 182 plane.
Unlike other tandem skydiving dropzones, Skydive the Wasatch exclusively uses a Cessna 182 plane as its jump ship. This model airplane allows for a more intimate feel and is the only skydive aircraft in Utah that requires the students to climb out onto a custom made step before jumping. This act alone is often the most talked about part of the skydive. 
While at other skydiving dropzones, the jumpers are just pushed out of the plane; at Skydive the Wasatch, our jumpers get to step out outside of the aircraft and spend time in the wide-open air before they jump out. This is a feature you can't get anywhere else!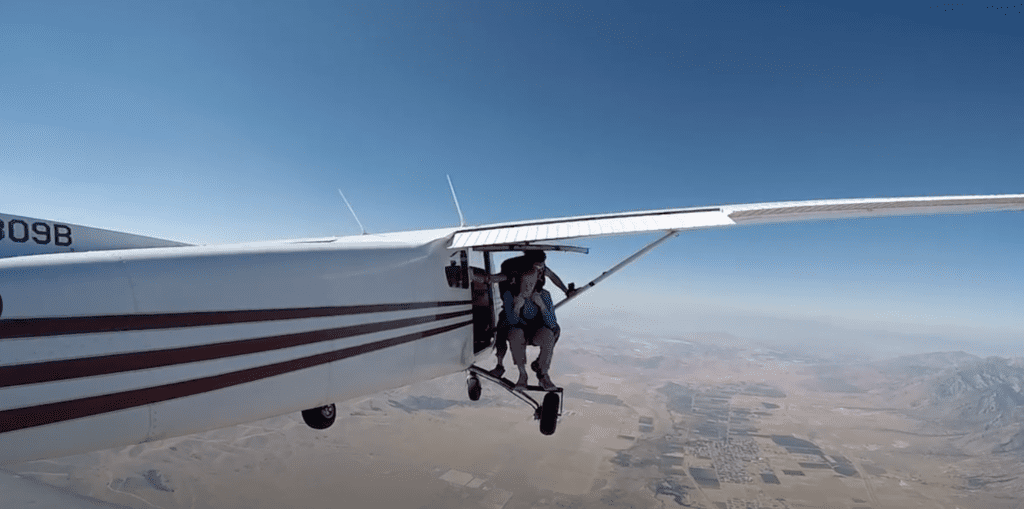 A 5-Star Google Review from Derrick Green reads:
"The experience was awesome. It was our 2nd time going. And it just gets better everytime we go. The people were great and very accommodating. The experience of the jump was epic. Being able to stand out on the wing and feel the air was amazing. That was the best. I highly recommend checking out Wasatch. It was an amazing time. Definitely planning a third. Thank you guys it was Awesome."
Below is a 5-Star Google Review from Kraken Decals: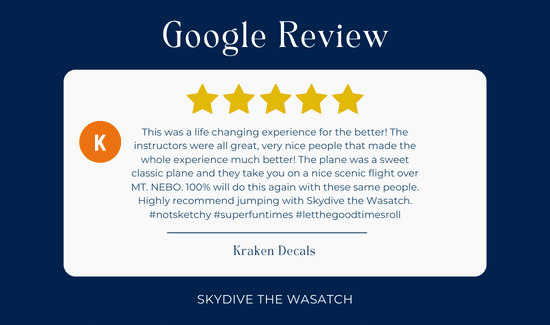 3. We offer photo and video packages to capture your skydiving memories forever!
Skydiving, especially for your first time, is a memory that will last a lifetime. However, we often hear that people don't know the right words to describe it. At Skydive the Wasatch, you don't have to have the words! You can get video footage of your experience!
Skydive the Wasatch uses Go-Pro equipment to capture intimate footage of your tandem skydiving experience. We also use top-of-the-line editing software, specifically designed for skydiving footage, to provide you with tangible evidence that encapsulates your journey with us. We offer both raw videos as well as professionally edited ones. The most common feedback we receive from our photo and video add-on packages is that they were "definitely worth the money."
A 5-Star Google Review from Maddie O reads:
"I don't think my experience skydiving could have been any better! The staff was so friendly and helped me feel at ease throughout the whole process. They made me laugh and gave some pretty good pep talks, too! I will definitely be going back!
Also, buy the video! It seems a little pricey but it is so worth it! I have already watched mine 50 times!"
A 5-Star Yelp Review from Ashley W reads:
"This was the best skydiving experience we've had! We were fortunate to book on a day that it was just my boyfriend and I jumping at that time slot. The entire experience felt very personalized and we received instruction, (reassurance and confidence for me!) and a ton of information about the jump, plane, area and instructors. 100% worth the drive and the cost was very reasonable and affordable for what was included and the 80+ photos we were sent makes a life time of memories. Thank you!!"
We could go on and on about the other features that make Skydive the Wasatch unique, such as: providing a dropzone for individuals of all ages and demographics, offering bilingual services and skydiving for handicapped individuals, putting on demonstration events with special jumps involving flags and large banners, as well as, partnering with large organizations like Addict II Athlete and Train Invictus, where we get to be a part of something bigger than ourselves. However, the real truth to why we're the best skydiving dropzone in the U.S. lies in the experience of the skydiver.
It's time for you to find out yourselves! Come check out Skydive the Wasatch- the best skydiving dropzone in the United States!
To make a skydiving reservation with Skydive the Wasatch, click the link here.
To read more reviews on Skydive the Wasatch, visit our Google, Yelp or Facebook pages.