Did you fall in love after your first tandem skydive? Want to make skydiving a more regular thing? It may be worth considering taking the next steps to getting licensed in skydiving. There are four different skydiving licenses one can obtain, ranked A through D. Skydivers start with an "A" license and progress through the sport. With each ranking you receive, there are even more opportunities for awesome skydiving adventures. What are those opportunities? In the blog below, we've broken down the different skydiving licenses as outlined by the United States Parachute Association (USPA) and what you can do with each.
Skydiving A License
So you went on a tandem skydive, but now you want to go skydiving on your own. The "A" license is the first skydiving license one can achieve and allows the individual to jump without supervision.
In order to get your Skydiving A License, the USPA requires the following:
Minimum of 25 jumps
Complete all requirements laid out by the USPA A License Proficiency Card
Complete at least five skydives with one or more people
Pass the USPA written and oral exams
Have their skydiving license stamped by the USPA
You may have seen our Facebook and Instagram posts of smiling skydivers getting a stamp on their forehead. This means they've received their "A" License. You can be the next individual in one of those pictures when you pursue your Skydiving "A" License at Skydive the Wasatch!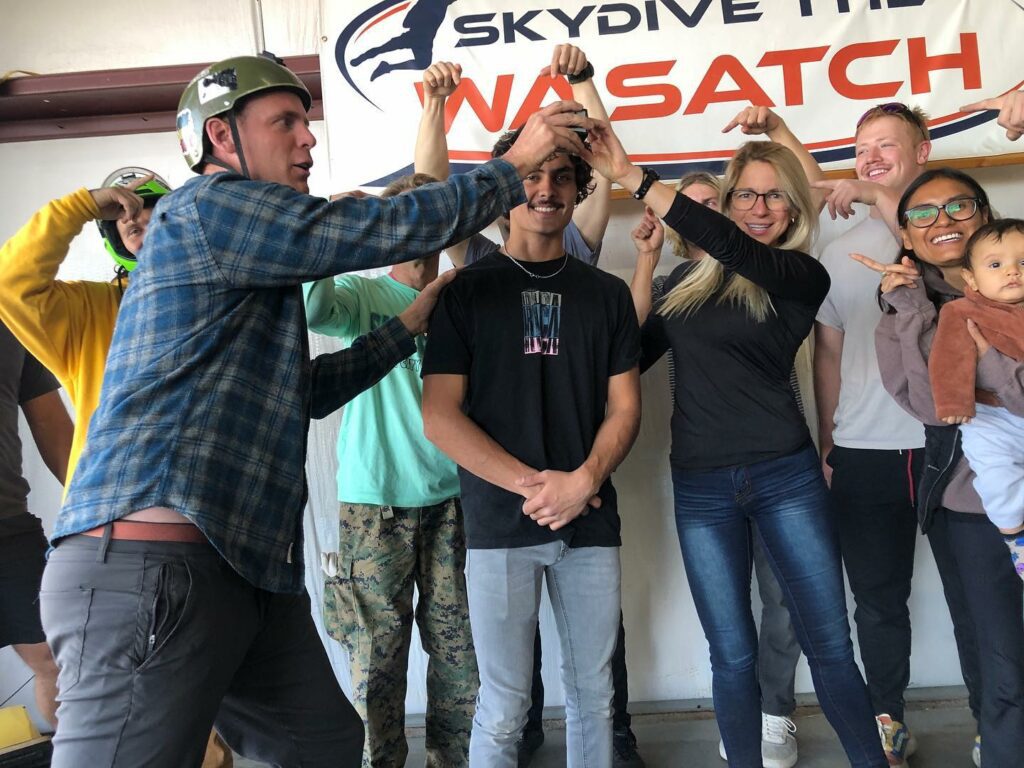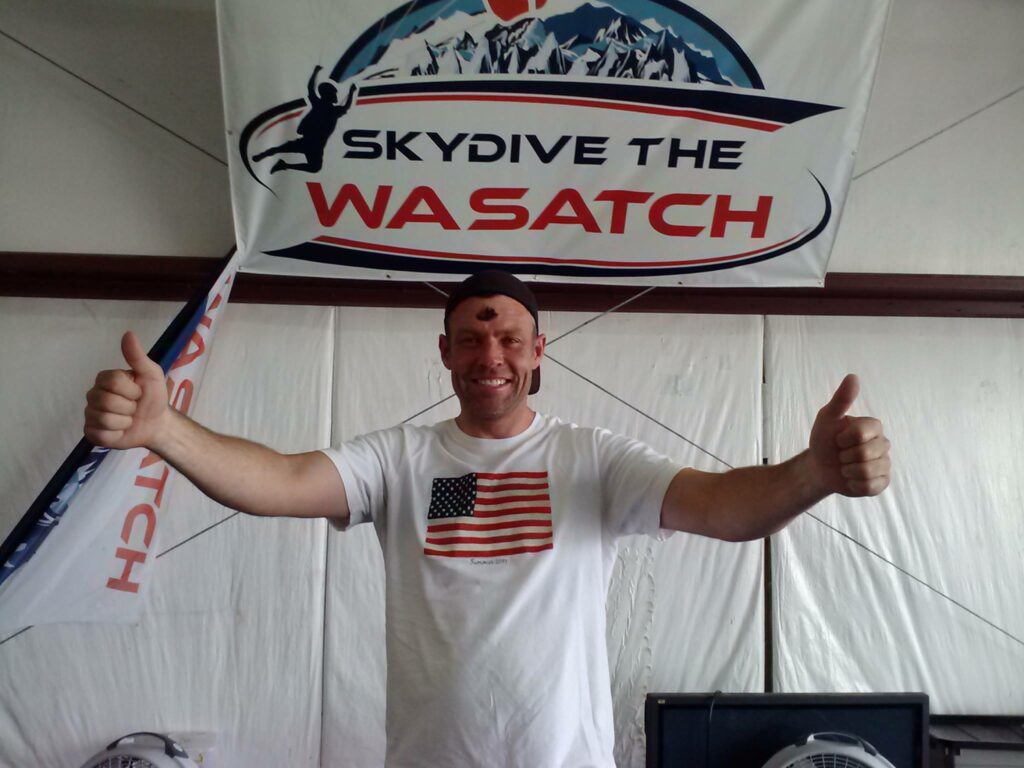 Skydiving B License
The second level of Skydiving licensing is the "B" license. The "B" license indicates a skydiver who has proven a basic level of experience in unsupervised jumps with other individuals. While the A license gives you the freedom to jump unsupervised, the B license shows that you have been able to do so for at least 25 jumps, including planned jumps with groups. Individuals who hold a B license can do all the things that "A" licensed skydivers can do, plus they can complete night jumps, helicopter jumps, and hot air balloon jumps. B license skydivers can also take HALO jumps from high altitudes, which can be up to double the normal skydiving altitude.
The USPA requires the following for a Skydiving B License:
Have held a skydiving A License
Completed at least 50 skydives during which they have been in freefall for at least 30 minutes and have landed within 33 feet of a target on ten jumps
Demonstrated the ability to perform controlled turning and backlooping maneuvers, or successfully completed the planned points in ten group formation skydives
Documented proof of live water landing training
Proven their canopy piloting skills by fulfilling the requirements of the USPA canopy piloting proficiency card
Passed a written USPA exam
With a "B" License, an individual can apply for any coach rating. For more information on coach ratings, see our Careers Blog.
Skydiving C License
A Skydiving "C" license is where the real fun begins! Individuals with a skydiving "C" license can do anything listed in "A" and "B," and are also able to start getting into more of the entertainment side of skydiving. "C" Licensed skydivers can perform in smaller demonstration jumps like sporting events, can jump with a camera like a GoPro, and are eligible for more advanced level jumps and wingsuiting.
"C" Licensed skydivers also have the privilege of being passengers on renewal jumps and USPA tandem instructor training courses. A "C" license or higher is required to get any rating other than the "coach" rating. One such rating a "C" licensed skydiver can get is the USPA instructor rating.
To qualify for a Skydiving "C" License, the USPA requires you to:
Have achieved a B license
Have completed 200 jumps and been in freefall for at least 60 minutes
Have landed within 7 feet of a target on 25 jumps
Have completed in air turning and barrel rolling maneuvers, or completed at least two points on an 8 person formation skydive
Have passed a written exam
Skydiving D License
The Skydiving "D" license is the most advanced skydiving license. "D" Licensed skydivers have proven that they possess advanced skills and a great depth of experience. They have all the privileges of Licenses A through C and are eligible for all USPA instructor ratings. Common ratings individuals strive towards after getting their "D" license are the tandem and PRO ratings. PRO Ratings allow skydivers to participate in large demonstration jumps and other exhibitions with tight and possibly more difficult landing areas. You may have seen photos or videos of our skydivers jumping with an American flag. With a "D" license and the PRO rating, you're eligible to do things like this and fly with other pyrotechnic devices.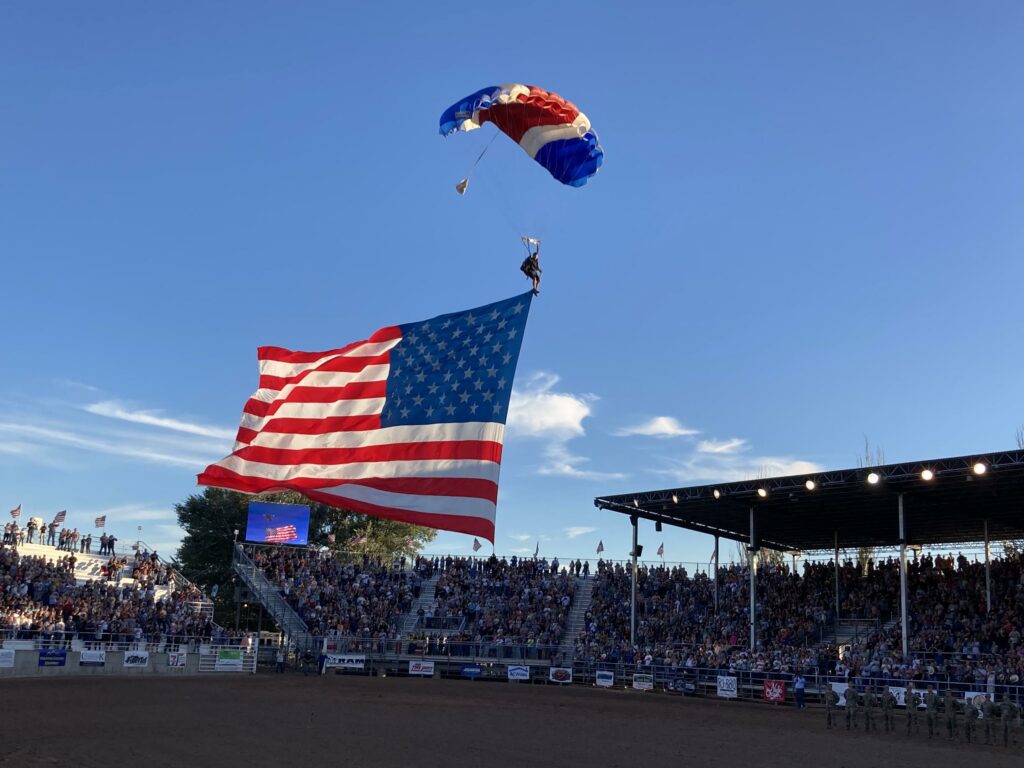 Below are the USPA's "D" License requirements:
Minimum of 500 skydives
Spent at least 3 hours of time in freefall
Completed an intentional water jump
Landed within 7 feet of a target center on 100 jumps
Completed at least 2 night jumps with at least 20 seconds of freefall for each night jump
Completed at least 100 formation skydives, 25 of which must have included 8 participants
Passed a USPA D License exam
These are the additional requirements for the PRO rating:
Posses a USPA D License
Have at least 500 jumps on a ram-air canopy
Made two night jumps with a freefall of at least 20 seconds

Must also have verification of prior night jump training from a USPA Instructor with a D license, who has also successfully completed two-night jumps
It is recommended that the first night jump is a solo and the 2nd with a group

Make a series of ten solo jumps with a stand-up landing into an area 40 feet long by 20 feet wide using the same model and size canopy

The applicant must pre-declare each jump to count toward the requirements for the PRO rating. All declared jumps must be recorded on video.
The ten solo jumps must be consecutive. In the event of an unsuccessful jump, the applicant must restart the series.
All declared jumps must be witnessed by either an S&TA, Examiner, USPA Judge or USPA Regional or National Director. The witness must then sign off on the jumps.
Interested in starting the journey of getting licensed in skydiving? Head over to Skydive the Wasatch at 2001 N Airport Rd, Nephi, UT 84648 or give us a call at (385) 321-0284.
Want info on Skydiving Careers? Read our Careers in Skydiving blog here.