At Skydive the Wasatch, skydiving is for everyone! Whether you're old or young, able-bodied or handicapped, we encourage everyone to consider the possibility of jumping from an airplane! At Skydive the Wasatch, we know the pleasure one can get from a tandem skydive and we aim to provide that to as many people as possible!
Too Old for Skydiving? No way!
At Skydive the Wasatch, you're never too old to live out a bucket list item! We've had tandem skydivers ranging from age 18 to 90!
Recently, we had a chance to interview one of our regulars at Skydive the Wasatch- Rick Keller. Rick is a 75-year-old military veteran who likes to share the skydiving experience with his kids and grandkids. Before his first skydive with Skydive the Wasatch in 2021, Rick had prior experience skydiving in the military, but described it as two completely different experiences.
"They're day and night," Keller said. "Two completely different systems."
Keller said that when skydiving airborne in the military, he was only 1,000 feet high when his parachute would open and only had about two to three seconds of freefall.
"You're a thousand feet high when the shoot opens, happens real fast. Hardly any freefall, you go wherever the wind's blowing and crash out in a dropzone and hit pretty hard," Keller said in reference to his military jumping in 1969 and 1970.
"Many, many years later, we went [to Skydive the Wasatch] and did freefall up in airplane where they take you up 13 or 14 thousand feet and you jump out… Freefall for 15 or 20 seconds…. That freefall- there's nothing like it. The speed that you reach within a couple of seconds is just glorious."
Rick Keller received his first tandem skydiving tickets as a Christmas gift from his son and daughter-in-law nearly 50 years after he'd done any military jumping.
"[The tickets] caught me by surprise. Complete surprise. I had no idea they were even looking at them," Keller said. "Top of the list of any Christmas present I'd gotten before."
"When you're 65, 70 years old, you don't even plan on doing something like that, you're like 'ah, maybe I'm too old' and you start talking yourself out of doing things but when they popped up with tickets, I was like 'hey, I'm in.'"
During his first tandem skydive with Skydive the Wasatch, Rick actually not only jumped once but twice.
"As soon as you get on the ground, first thing in your head is like I wanna do that again," Keller said.
Since his first two tandem jumps in 2021, Rick has made 4-5 more jumps and has another scheduled with his granddaughter for the spring. One of those times, Keller brought his sister-in-law, Vicci Keller, who's actually older than he is.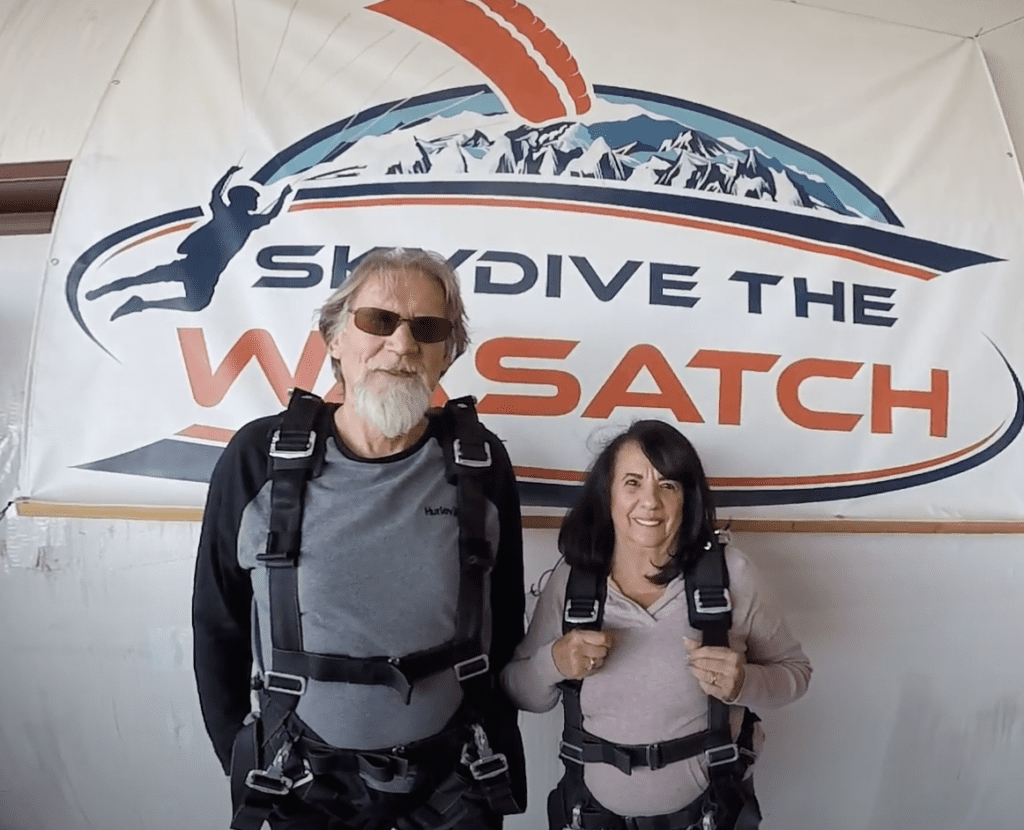 "She was 76 at the time when we jumped. It was just awesome. She had a ball. She said she'd like to do it again sometime," Keller said.
Keller described his tandem skydives at Skydive the Wasatch as safer than the 70-mile drive from his home to the dropzone and recommends it to anyone who's never jumped before, no matter the age.
"If you've been looking into it, go do it. Just go for it. You won't regret it. You will love it. You'll want to do it again," Keller said.
"I'd like to do it 3 or 4 times a year for the next 10 years if I'm still around that long."
Rick Keller isn't the only elderly skydiver we've had at Skydive the Wasatch, and definitely not the oldest. Jane McEwan jumped in September 2022 and is 90 years old. We've also had Joanne Wiley who was 83 years old at the time of her jump, Sheila Fenn who jumped with her granddaughter at the Addict II Athlete event at 78-years-old, amongst many others.
A 5-star Google Review from Rex Thornton reads:

If you think you're too old for skydiving, think again!
"If you like amusement parks and going for rides, this is the ride you want to go on," Keller said.
What if I'm Overweight or Handicapped?
At Skydive the Wasatch, we strive to work with everyone interested in making a dive! Feel you have limitations? We'll do everything in our power to make your tandem skydive happen!
While there is a skydiving weight limit of 230 lbs, there is no minimum weight requirement and we encourage people of all sizes to try a tandem skydive. 
Ike Cleverly is one of Skydive the Wasatch's customers who fits into multiple categories of people who weren't sure they'd be able to make a skydive. Ike is 57 years-old, over 200 lbs, and is paralyzed from the waist down.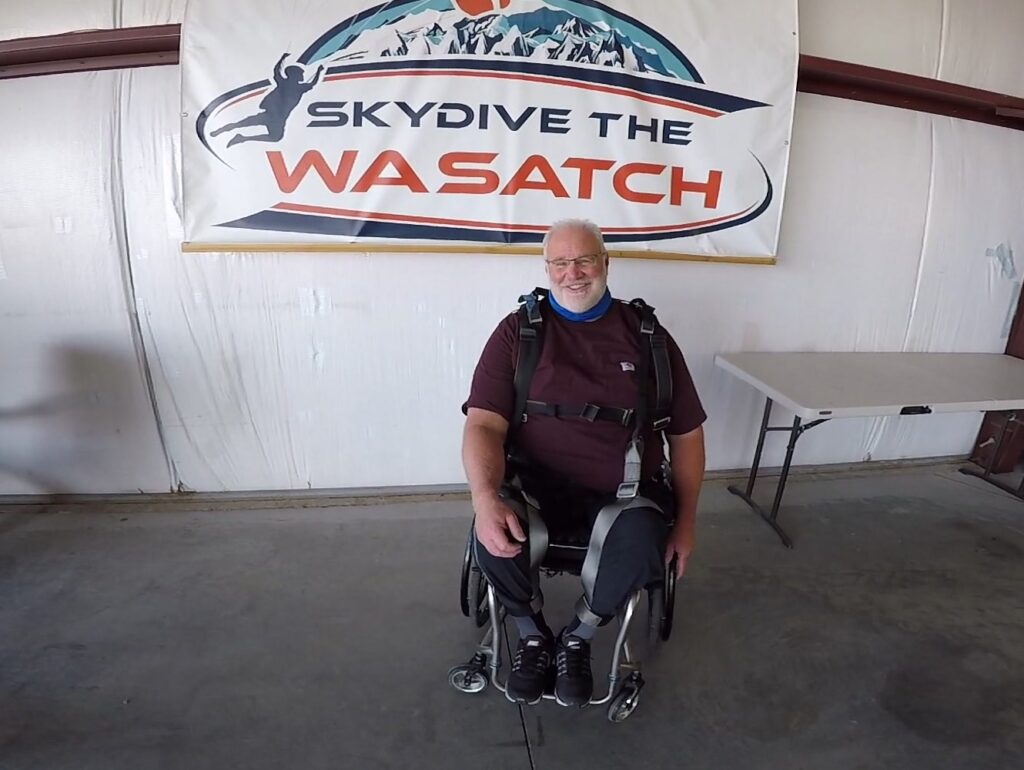 "I had gone to a bunch of other places and they wouldn't let me do it. The guys there [at Skydive the Wasatch] said we're going to figure out a way up there," Cleverly said.
Ike had tried every other skydiving dropzone in the state of Utah as well as a couple in California before finally landing on Skydive the Wasatch who was willing to accommodate his needs.
"I'd check off a place, check off a place. When I talked to Leon (Skydive the Wasatch's Owner), he heard my situation, he said wait a minute, we're going to figure out a way to make it work," Cleverly said. "So he actually made a little piece of equipment that hooked on. They were worried about landing cause I can't lift my legs up or anything. If they get caught, I'd break my legs. [Leon] made a little apparatus that hooked onto my legs. When we got close, pulled on it and made my knees come up to my chest. Wasn't an issue any more."
Once Ike found out Skydive the Wasatch could make his dream of tandem skydiving happen, he immediately bought tickets for him and his son to go skydiving as a graduation present. His son was not only thrilled to get the tickets and go skydiving, but even more psyched because he knew the frustration his father had experienced in looking for a dropzone that could accommodate him.
A review on our website from Ike's son, Nathan Cleverly reads:
"This was an absolutely amazing experience. I think skydiving would be pretty amazing no matter where you go but at Skydive the Wasatch they made the experience so much better. They went the extra mile to make sure my dad, who is in a wheelchair, could jump as well and it was an incredible experience for the both of us. They clearly care about you having a great experience here!!"
Ike described his tandem skydive as invigorating and a totally different feeling than he thought it was going to be. He plans to make another jump in the next few years.
"They were absolutely fantastic. Totally bent over backwards to accommodate me and my situation and make it the most perfect experience," Cleverly said when talking about Skydive the Wasatch. "I always recommend, whether it's someone in my position or just a regular person, the people were amazing and it was fun. It was a lot of fun."
You can watch Ike Cleverly's full tandem skydiving experience on YouTube by clicking the link here.
Ready to go skydiving? Now, there are no excuses! Skydive the Wasatch will work with anyone interested in experiencing free-fall. We can't guarantee that we will be able to accommodate everyone, but you can be sure we will bring all our skill and experience to the situation!
Have a special need that wasn't covered in this article? We'd love to hear more about it and figure out a way to get you up in the sky! Give us a call at (385) 321-0284 or send us an email at info@skydivethewasatch.com!