Skydive the Wasatch is officially back open for the skydiving season! We can't wait to have you skydive with us!
Opening Day at Skydive the Wasatch kicked off on April 1st this year with beautiful blue skies and an excellent view of snow-covered Mount Nebo. Tandem skydivers, solo jumpers, and their family and friends showed up to enjoy a day filled with skydiving, food, fellowship, and fun. Jumpers were pleasantly surprised to see several new enhancements at the dropzone, including a new picnic table seating area, a designated solo packing area, double doors at the customer entrance to help ease accessibility, along with a few other upgrades.
To make the occasion extra special, we had La Venia taco truck come out and a flag jump by one of our tandem instructors, Adam. (La Venia taco truck will be coming to the dropzone most weekends this season serving up their delicious Mexican food.)
One of our A-Licensed skydivers, Denise Haney, attended the event despite not being able to skydive due to recovering from knee replacement surgery (unrelated to skydiving). 
While Haney couldn't skydive herself at the time of the event, she was eager to rejoin her "family" after a long five-month off-season.
Haney, who turns 61 in July and never had any interest in skydiving until her husband did it in 2021, says skydiving completely changed her life for the better. She credits a large part of that to not only skydiving itself, but joining the community of solo jumpers at Skydive the Wasatch.
"This is an extreme sport and most of the people are young men, 19 or 20 year-olds," Haney said. "They totally accepted us, treat us like one of them."
"You would think some 20 year old adrenaline junky would be a bunch of jerky young kids, but these guys are just incredible human beings."
Haney was particularly excited for the flag jump portion of opening day.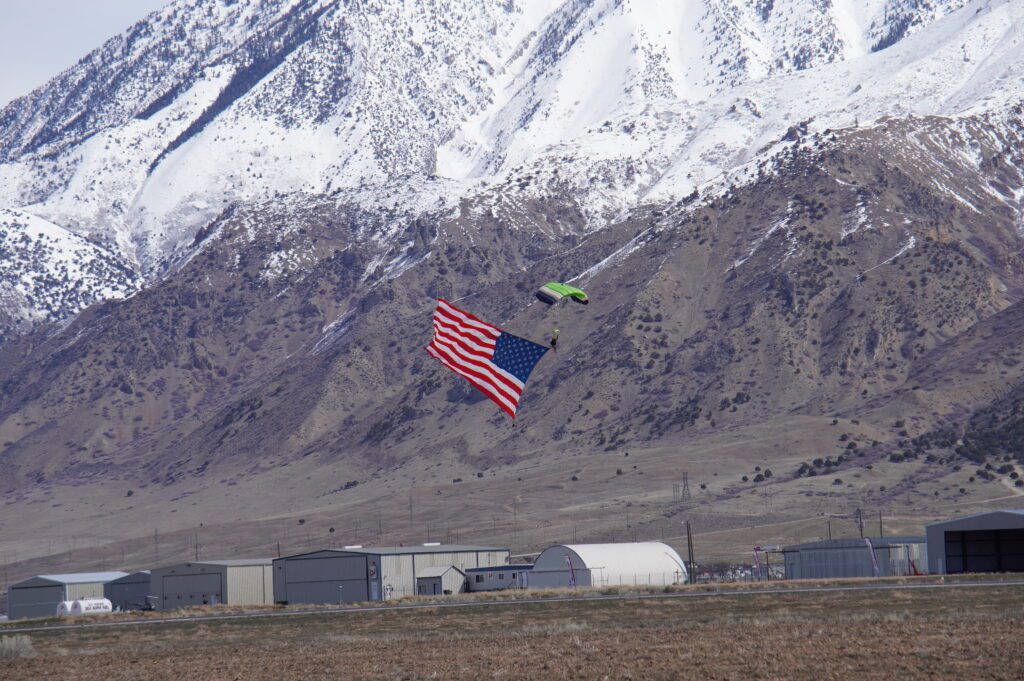 "It was really special to see that, with Adam who's a Marine Veteran, Purple Heart awardee. Flying that flag the first day with everybody there. It just brought tears to people's eyes," Haney said.
"That was a special feeling all around because I hadn't seen any of the guys in person do a flag jump and that it was Adam who was injured in the military and had a lot of problems getting to where he's at today. Skydiving actually saved his life."
Haney also liked getting to reconnect with her old skydiving friends and hear about how everyone spent their winters, as well as, meeting new members of the Skydive the Wasatch "family," including an accomplished wingsuit instructor from Washington, a newly-licensed skydiver from Mapleton who trained out of Mesquite, TX, new tandem instructors, and a new jump pilot, and jump-pilot-in-training.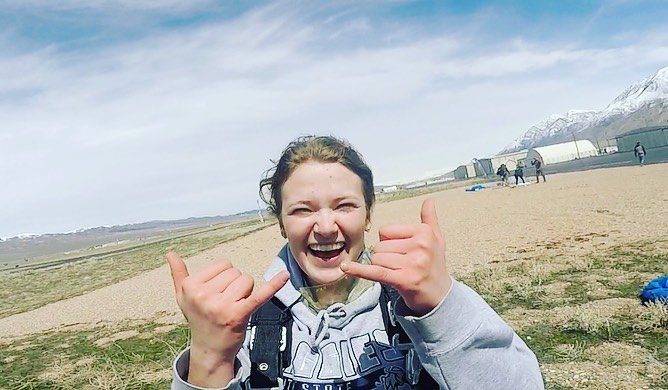 "I was talking with some of the skydivers who were licensed last season. Over the winter, they explored other dropzones and had some fun stories to tell. Yet, they were happy to be back at their home DZ here at Skydive the Wasatch because of the laid-back and welcoming vibe," Haney said.
Our staff at Skydive the Wasatch is excited to be back at the dropzone as well. Skydiving season is the best time of the year! Come join this amazing community of skydivers! Click the link here to book a tandem skydive and become part of the family!