The Cessna 182, also known as the workhorse of the skydiving community, is the best airplane when it comes to "jumping ship."
The Cessna 182 aircraft was first developed in 1956 in Wichita, Kansas, and has been the most common skydiving jump plane in the U.S. since. The Cessna 182 is a smaller airplane, reaching 25 feet long and holding a wingspan of 36 feet. Despite its small size, the Cessna 182 holds a 230 horsepower 0-470 engine, making it one of the strongest engines for a plane of its size.
The Cessna 182 is known for its strong hauling speed and reliability. It can carry four skydivers and a pilot to altitudes of 10,000 feet in under 20 minutes.
Skydive OC describes the Cessna as "much like the Toyota of aviation, building long lasting, reliable, and mechanic friendly planes."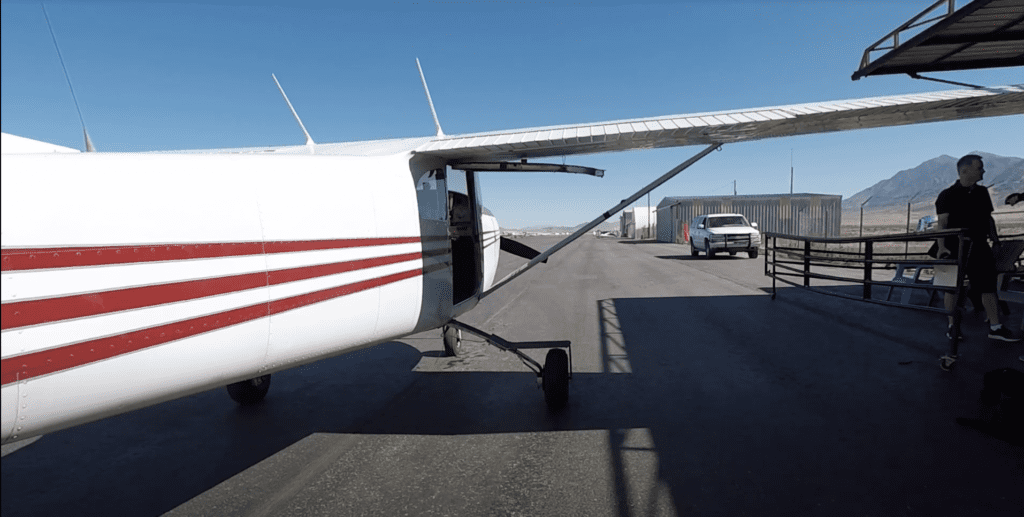 Skydive the Wasatch's Cessna 182: Modified & Enhanced for the Backcountry
While a typical Cessna 182 is already considered one of the best jump planes for skydiving, Skydive the Wasatch's Cessna 182 is not your typical stock Cessna 182 plane. Think of ours as the "hotrod" of skydiving jump planes.
At Skydive the Wasatch, we've heavily modified our Cessna 182 for backcountry skydiving. We've added a larger engine, wingtip extensions, bigger tires, and much more to enhance its capabilities and make it the premier jump plane for skydiving in mountainous terrain.
In the aviation community, there is a term called "p.ponking" an engine. It was first developed in the 1970s by former Air Force pilot, Steve Knopp of P.Ponk Aviation, when he started small aircraft maintenance, restoration, and engine overhauls. P.ponk or "p.ponking", which is Knopp spelled backwards, refers to a Continental IO-550-D Upgrade for Cessna A185E and A185F Models, a Continental IO-520-D Upgrade for Cessna 182H through P Models, or a Continental O-470-R or O-470-S Installation for Cessna 182E through 182P Models.
At Skydive the Wasatch, we've "p.ponked" our engine by putting larger cylinders on it, adding a 520 STC (special type certificate), and modifying the 0-470 engine to bring an additional 50 horsepower to the aircraft, making it a 280 horsepower engine. Because of this, our Cessna 182 can reach altitudes at a faster rate than a typical Cessna 182.
Another thing Skydive the Wasatch has done to enhance our aircraft is add wingtip extensions and flap gap seals, or STOL (short take off and landing) kit, which also increases the climb rate, as well as, its carrying capacity. The STOL kit allows the plane to climb at an increased angle of attack at a slower speed without stalling. It makes the plane more agile and allows it to climb steeper and faster, while also making the whole jump plane operation more efficient.
Skydive the Wasatch's Cessna 182 has been stripped to make it as light as possible while also providing more room for seating. We can fit as many as five people on the airplane along with a jump pilot.
To the naked eye, Skydive the Wasatch's aircraft doesn't look like anything special. In fact, our customers have often described it as looking old, beat up, and junky. However, the saying "looks may be deceiving" really shines true in our case.
Not only has Skydive the Wasatch's Cessna 182 been heavily modified with the strongest and most powerful engine, along with other enhancements to make it the best of the best, it also holds a brand new engine and is extremely well maintained.
At Skydive the Wasatch, our Cessna 182 is regularly maintained on a 50 hour inspection, meaning we inspect our plane every 50 hours. We bring in a specialized mechanic every 100 hours for a full inspection, and do a general inspection every 50 hours to make sure everything is running smoothly. We also do a filter and oil change every 50 hours.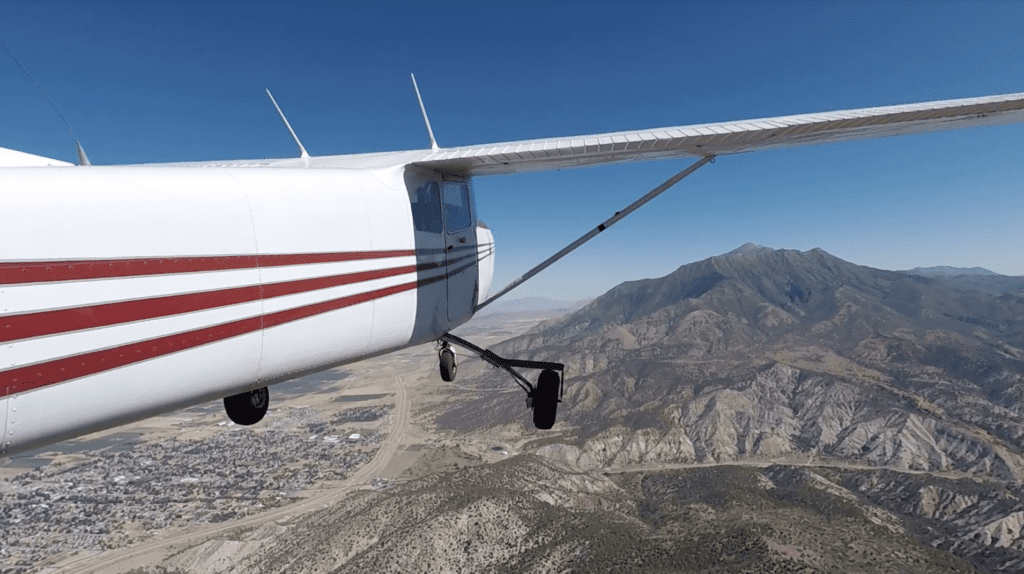 We've saved the best for last!
The biggest distinguishing feature of Skydive the Wasatch's skydiving aircraft is its "back 2 earth" step. What is that? It's a step outside of the airplane that our skydivers walk out on before their jump. That's right! Instead of getting pushed out the door of the plane, our students must step out onto the step and stand outside of a flying airplane like a circus wing walker before taking the leap into freefall.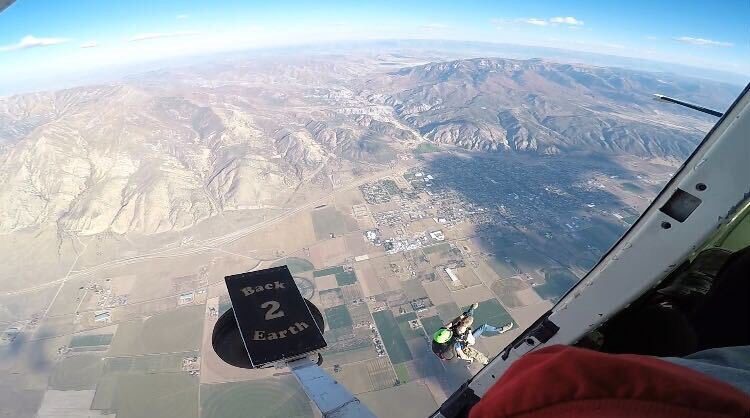 Experience the beauty of the Wasatch Front, Mount Nebo, Utah lake, and the mountainous terrain and valleys of central Utah by standing in the clouds with nothing under you except a small step for your feet. This is by far the most talked about feature of our Cessna 182 and the skydiving experience you get at Skydive the Wasatch that you can't get anywhere else!
A 5-Star Google Review from Derrick Green reads:
"…The experience of the jump was epic. Being able to stand out on the wing and feel the air was amazing. That was the best. I highly recommend checking out Wasatch. It was an amazing time."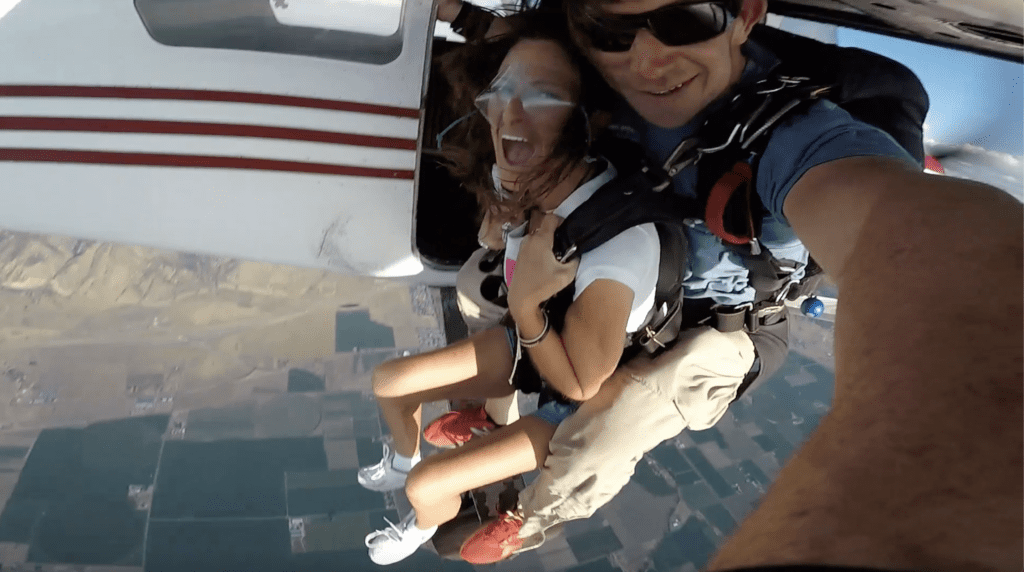 Another 5-Star Google Review from Adam Krum reads:
"Great place to experience a first jump and a growing skydiving center. Amazing views of the Wasatch mountains and MT Nebo. Get out and experience a Cessna skydive in the heart of Utah. Well maintained equipment and the feel of a farmland dropzone."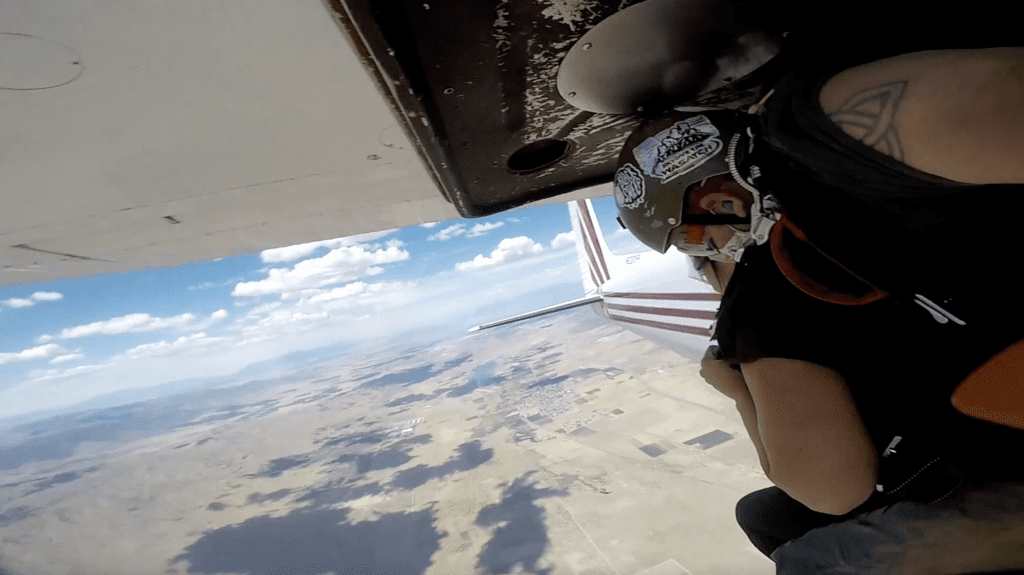 Ready to experience a skydive in the "hotrod" of skydiving aircrafts? Ready for a backcountry skydiving experience in a plane that can roam through mountainous terrain and take off and descend at lightning speeds? Want to get the feeling of floating with angels in the wide open air? Then, reserve your tandem skydive with Skydive the Wasatch by clicking the link here.
Looking for more reasons on why to book with Skydive the Wasatch? Read our "Best Place to Skydive in the U.S." blog here.