While the number of female and male tandem students is almost evenly split, the world of sport skydiving is extremely male-dominated. Shockingly, only 14% of the 41,000 professional skydivers in the United States are women. To to find out why, and learn what we could do to encourage more women in the sport, we talked to some amazing female skydivers from Skydive the Wasatch and beyond. Here's what we found…
Former Skydive the Wasatch employee Theresa Hauser is a tandem instructor and an influential force in the fight for awareness around the treatment of female skydivers. When speaking to us about the culture she's encountered in her years of skydiving around the country, she didn't hold anything back.
"It's definitely been a boy's club for as long as it's been around," Hauser said. "It's hard to get into it [professional skydiving]. You can find good instructors, but it's hard to learn if you get to a place where it's a bunch of boys." Hauser also expressed the discomfort she's felt when some of the instructors have become more interested in flirting with female students than providing them with the same level and quality of instruction as they would a male student.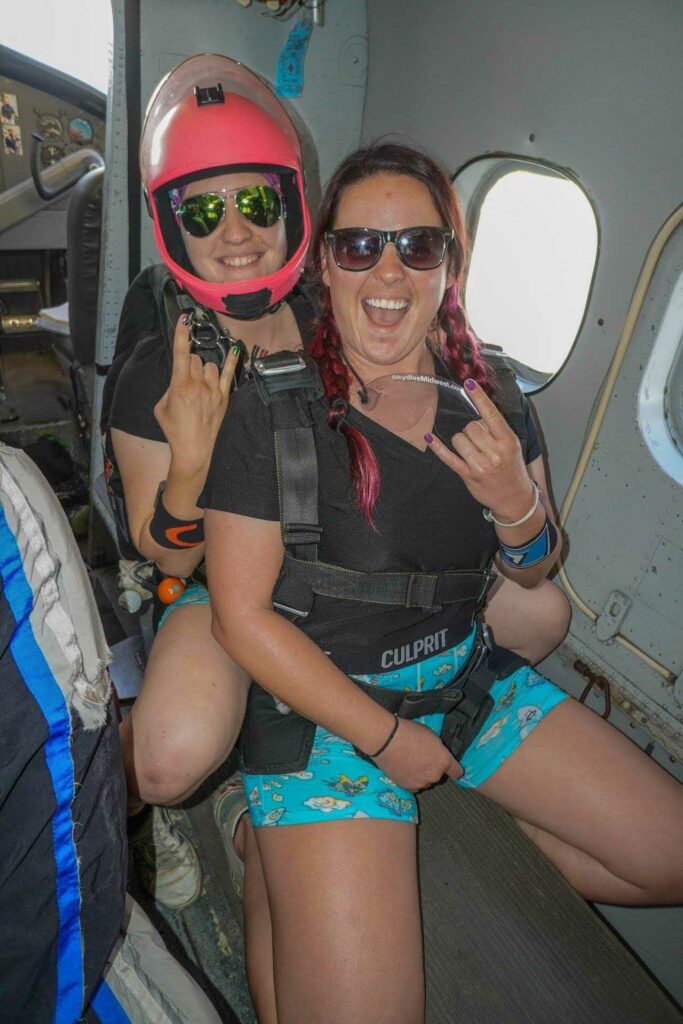 Fortunately, this isn't the case at every dropzone. Skydive the Wasatch is proud to have a culture that's hailed as an exception to this kind of treatment. We take pride in providing an atmosphere that is safe and comfortable for all demographics.
Skydive the Wasatch manifest assistant and licensed skydiver, Kasey Summers noted that a big factor is the environment owner Leon Roullard has created for the dropzone.
Summers, who's a few jumps away from getting her coach rating and has skydived at some of the highest-rated dropzones across the globe, including in Chicago, Atlanta, Wisconsin, and even Paris, said her experience training as a woman at Skydive the Wasatch has been exponentially better than any other dropzone.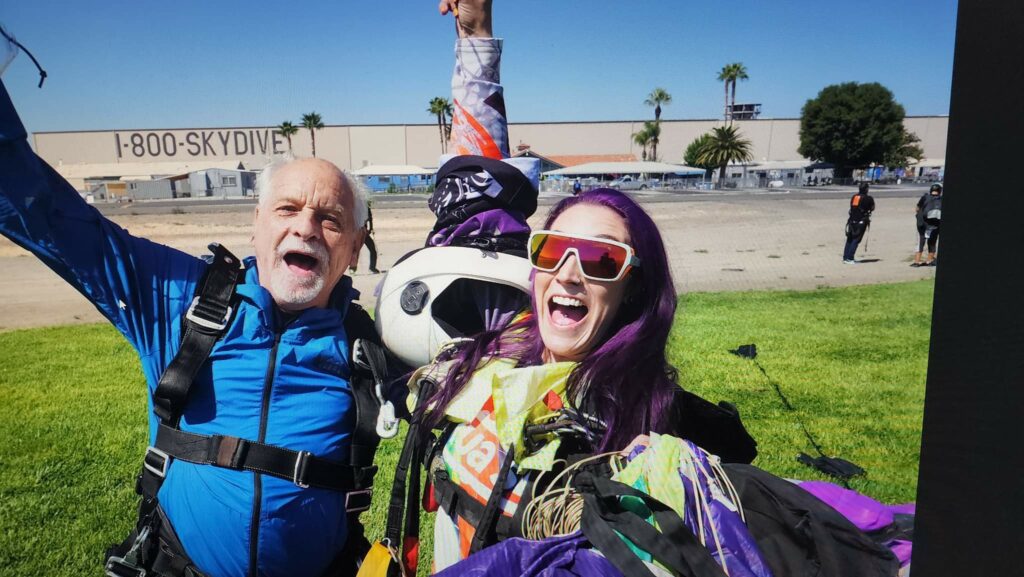 "I've been to quite a few dropzones around this country, some of which have the best reputations in this country, and Skydive the Wasatch blows them out of the water," Summers said. "It starts with Leon, and it just trickles down from the staff that he keeps around." 
Summers also shared how Adam Krum, who's a coach at Skydive the Wasatch, has helped her as a woman in the industry by giving her the same baseline that he would the men.
"We've got Krum, and [he] has done nothing but encourage me to do so much more in the sport- to push myself and to go out there and get my ratings because he's constantly telling me how much they need more women representation and how they need women instructors."
Skydive the Wasatch makes an extra effort to treat all our skydiving trainees equally and Summers' experience being coached by Adam Krum is a representation of that.
In discussing the physical requirements to be a tandem instructor, Hauser noted that "you have to be strong to do it, but most of it is technique. It does require a little bit of strength… but not to such a degree where the average woman can't do it. Anybody can."
Hauser also expressed the joy of being a female tandem instructor, and getting to guide people through the adventure of a lifetime. Knowing that some tandem students (for whatever reason) might prefer a female instructor over a male one, Hauser explained how awesome it is for a dropzone to have female instructors and give people that option. "It's nice to have people who can come out and feel comfortable [with a female instructor, when] they wouldn't have gone otherwise, so that's really cool."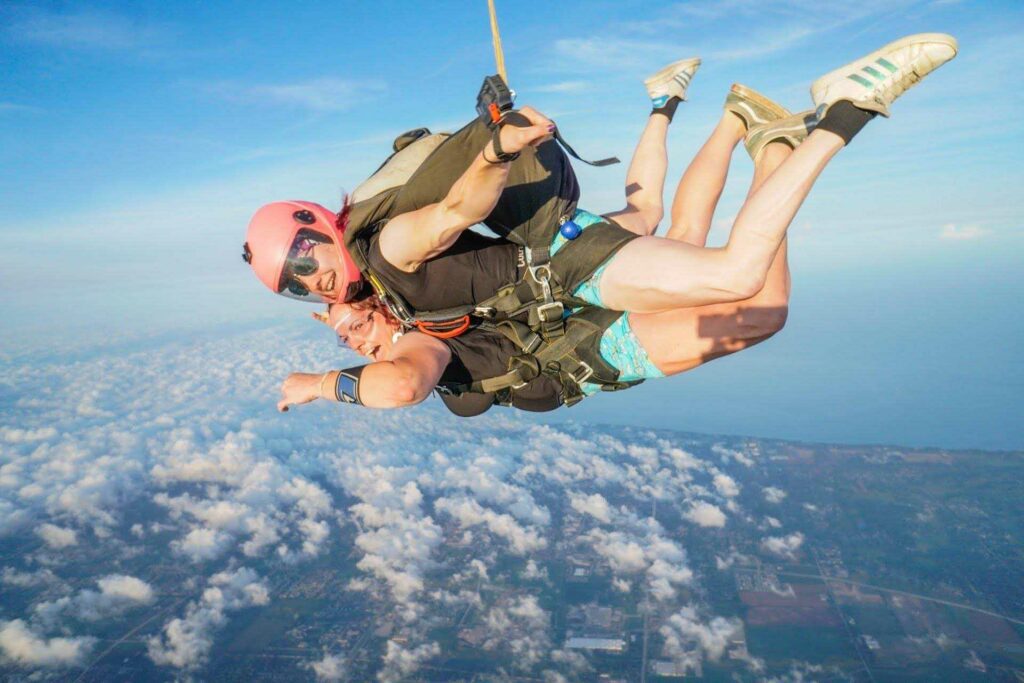 At Skydive the Wastach, we're working to increase our female staff so that more customers can always have the option of having a female tandem instructor to jump with. With our incredible staff and a culture that we're proud of, we hope to attract even more women to a training program that we're super proud of.
Speaking about the program, Summers said she's made more progress in her first season at Skydive the Wasatch than in years at other dropzones.
"Just from encouragement, and them being here and talking to you, knowing where you're at, what your exposure is. They [Skydive the Wasatch employees] see it when there's something you haven't done yet, and they're just like 'let's go do this.' … I have already done more in advancing my experience in the sport in the two months I've been here than any other dropzone so far," Summers said.
Besides dropzones like Skydive the Wasatch working to create supportive environments for women in the sport, there are also several programs that empower women in the skydiving industry that we would like to celebrate and share with you.
One of those is Sisters in Skydiving (SIS). SIS is a USPA program that supports female jumpers in skydiving through networking and resources. SIS focuses on providing a safe platform for female skydivers to network, as well as, maintains a collection of world-class resources, primarily written by women, tailored to female skydivers, and vetted by industry professionals. SIS also offers ratings scholarships and hosts events at dropzones all over the country to encourage women to get active in the sport.
Another resource is the Women's Skydiving Network (WSN). WSN is an inclusive movement for female skydivers to connect and inspire each other, while working on growing presence and participation. WSN is a nonprofit organization committed to elevating women and positively impacting equality and inclusion in and out of skydiving. They do this through representation of women such as in their Highlight Pro Skydiving Team, and Project-19, which is dedicated to building a 101-way Women's Vertical World Record.
Want more info on pursuing a career in skydiving as a woman? Skydive the Wasatch would love to hear from you! Whether you'd like to join our team or just want more information or resources about women in professional skydiving, we're here to help! Give us a call at (385) 321-0284 or send us an email at info@skydivethewasatch.com.