Are you tired of having the same family plans every weekend? Movies, bowling, arcade, and then just repeating that same cycle again and again. Are you looking for something different and fun that you can do with the whole family? Have you avoided Skydive the Wasatch because you thought skydiving was only for adults?
We've got a secret for you! Skydive the Wasatch is located on the J. Randy McKnight Nephi Municipal Airport which has a wide variety of aviation activities for you and your family to enjoy, and is surrounded by several other amazing destinations that can make up a full day of family fun.
Here's Our Family Fun Day Trip Suggestion:
Lunch at La Venia
Start your day off with a quick bite to eat! Food makes everyone happy and tacos do, especially! While on your way to the airport, head through town and stop at La Venia food truck for a fresh, local meal. La Venia offers a wide array of fresh food, including birria tacos and quesadillas, jamon, pastor, tinga, breakfast omelets, and more! Located in the center of town, in the Family Dollar parking lot, La Venia is the perfect place to stop on your way to the airport as it's centrally located and is the ideal grab-and-go meal for a day at the J. Randy McKnight Municipal Airport.
Eat in the parking lot or grab it to go and enjoy under the hangar at J. Randy McKnight.
Directions: Take the 1st exit (#228) for Nephi and stay on the main road all the way into town. You'll pass several restaurants and shops that you can stop in along the way. Drive through the town of Nephi and you'll eventually reach La Venia, which is parked in front of Family Dollar, on the corner of 100 N and Main Street.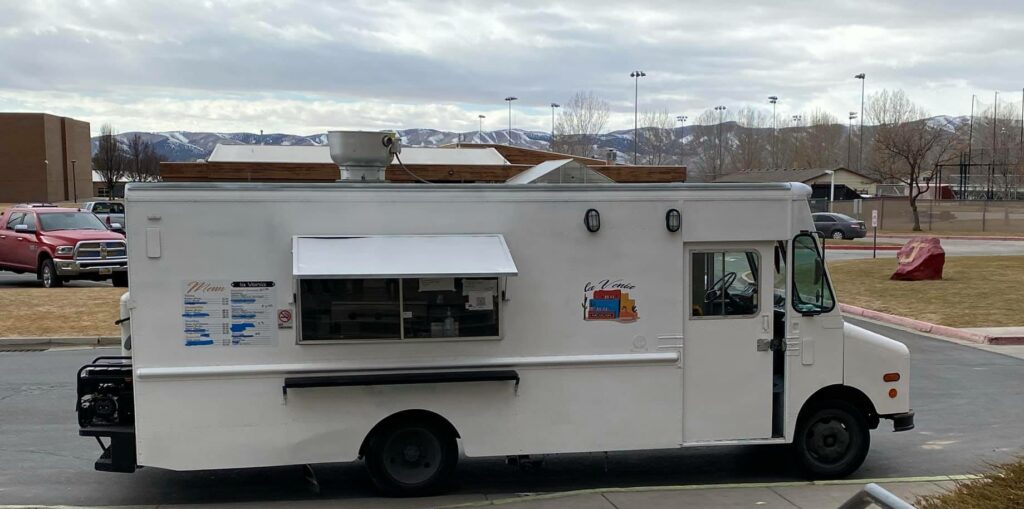 Aviation Activities at the J. Randy McKnight Nephi Municipal Airport
The J. Randy McKnight Airport is a hidden gem for a variety of aviation activities in Nephi, UT. Bring your tacos and burritos and sit on a picnic bench under the airport hangar and enjoy watching skydivers from Skydive the Wasatch, glider tow and sail plane operations from the Utah Soaring Association, aerobatic stunt pilots, helicopters, and the occasional hot air balloon. There are also several other aviation activities going on from time to time.
Skydiving isn't just about going skydiving yourself, but watching it is just as fun! This is an experience the whole family will enjoy. Plus, it's free! The J. Randy McKnight Nephi Municipal Airport is open to the public and Skydive the Wasatch is happy to let everyone enjoy our tandem skydives, not just customers!
Directions: From La Venia, head west on 100 N (Hwy 132) and take a right onto Airport Rd. Be careful as the road will sneak up on you. Look for the small sign with an airplane on it then drive north until you see hangar row and the flag for Skydive the Wasatch.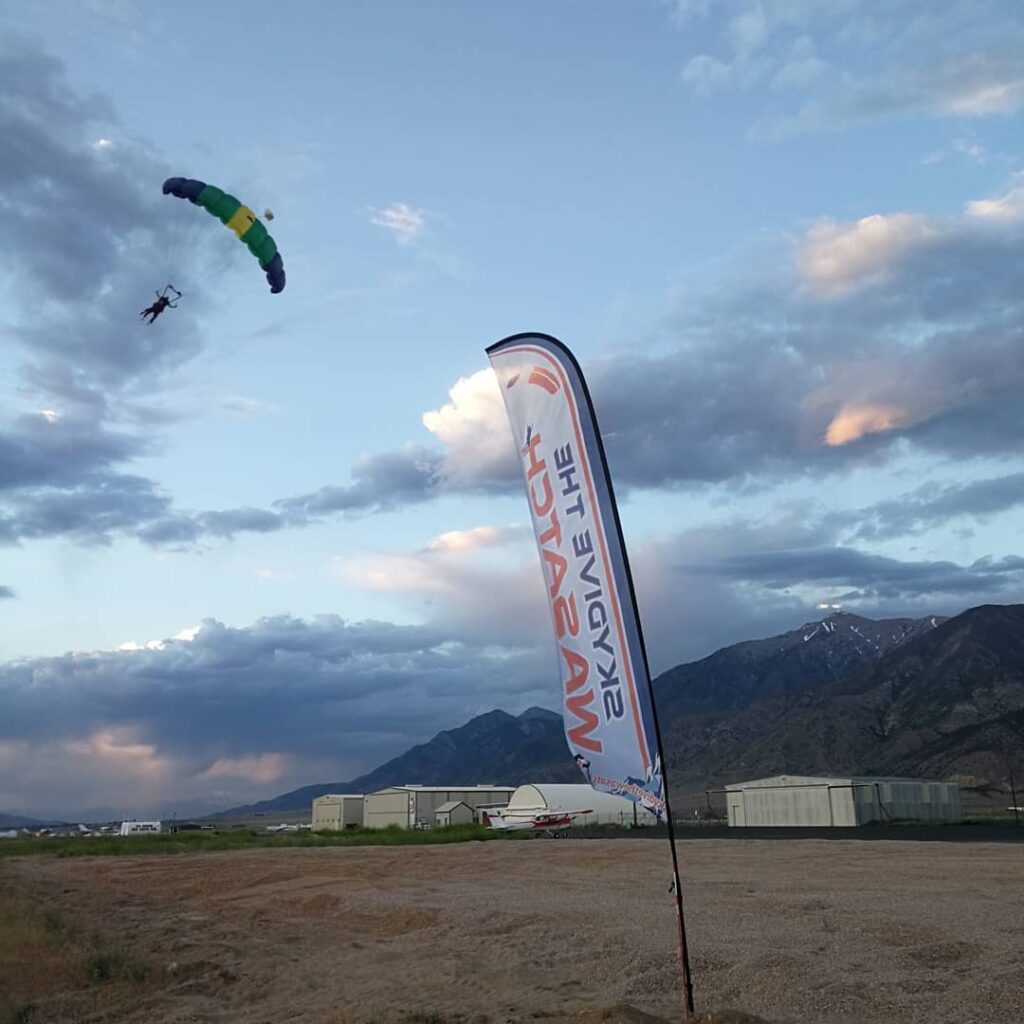 Get Outdoors! : Hiking, Swimming, & Rock Climbing Options
After you've gotten your aviation fix, check out some of the local outdoor activities, like hiking, swimming, and rock climbing! Below is a variety of options to choose from. Pick which one is best for your group, or do all three!
Mount Nebo
At 11,928 feet, Mount Nebo is the highest peak in the Wasatch Range, as well as in Utah County. Mount Nebo is a perfect hiking destination as the peak is close enough to the Wasatch front, but far enough off the beaten path to not feel terribly crowded. Considered a moderate level hiking trail, Mount Nebo can be trekked all at once or in sections. Some of the best trails on Mount Nebo include: the North Peak of Mount Nebo, Salt Creek Trail, Bear Canyon Trail, Andrew's Ridge, Pole Canyon, and more.
Directions: Head south on N Airport Rd toward W Dale Sperry Ln. Turn left onto UT-132 E and then turn left onto Nebo Loop Rd/Salt Creek Canyon. This will lead you to the Nebo Loop Scenic Byway as well as to hikes up Bear Canyon, Salt Creek, and Pole Canyon.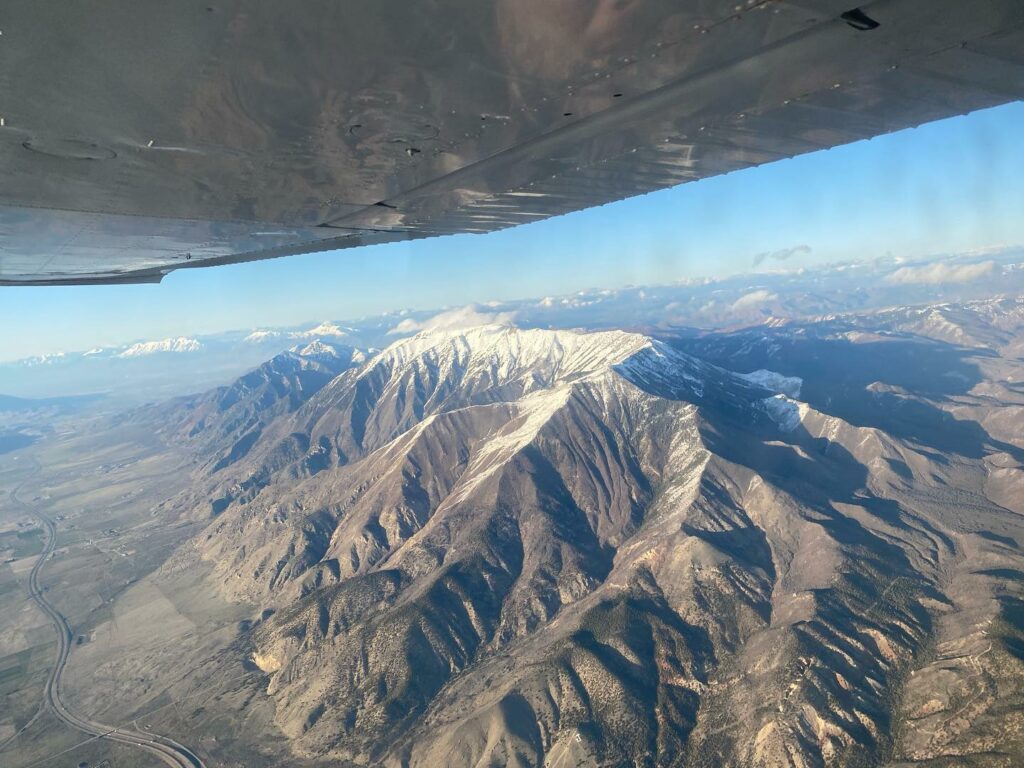 Rock Climbing at Maple Canyon
Located seven miles northwest of Moroni, Maple Canyon is one of the nation's most unique rock climbing areas as it's heavily wooded by Maple trees rather than the typical Aspens and Pines you'd find in Central Utah's high country.
Maple Canyon is also known for its Box Canyon formation, a dead-end gorge, 500-700 feet deep, a half a mile long, and so narrow in places a person can touch both walls at the same time.
Bring your group to test their skills on Maple Canyon's cobblestone cliffs. Maple Canyon is home to climbers of all abilities, ranging from novice to expert. You can find classic climbing routes at Maple Canyon here.
Directions: Head South on N Airport Rd toward W Dale Sperry Ln for about 2 miles then turn left onto UT-132 E and proceed for 16 miles. Turn right onto W 400 S St. then turn left onto West Side Rd. Proceed for 5.6 miles then turn right onto W Freedrom Rd. After a half of a mile, turn right onto Maple Canyon Rd and continue till you reach your destination on the right.
Burraston Ponds
Not up for hiking or rock climbing? Want something a little less vigorous? Bring the family to the local swimming hole, Burraston Ponds.
Burraston Ponds has rope swings, paddle boarding, scuba diving, fishing, and more. It is also filled with natural spring water, making the water extra clear for a breathtaking view.
Directions: Drive North on Airport Road until it T's into Meadow lane, then take a right. Drive to the T at Old Hwy 91 and then turn left onto Burraston Road. Once you've turned left on Burraston Rd, you've reached the ponds.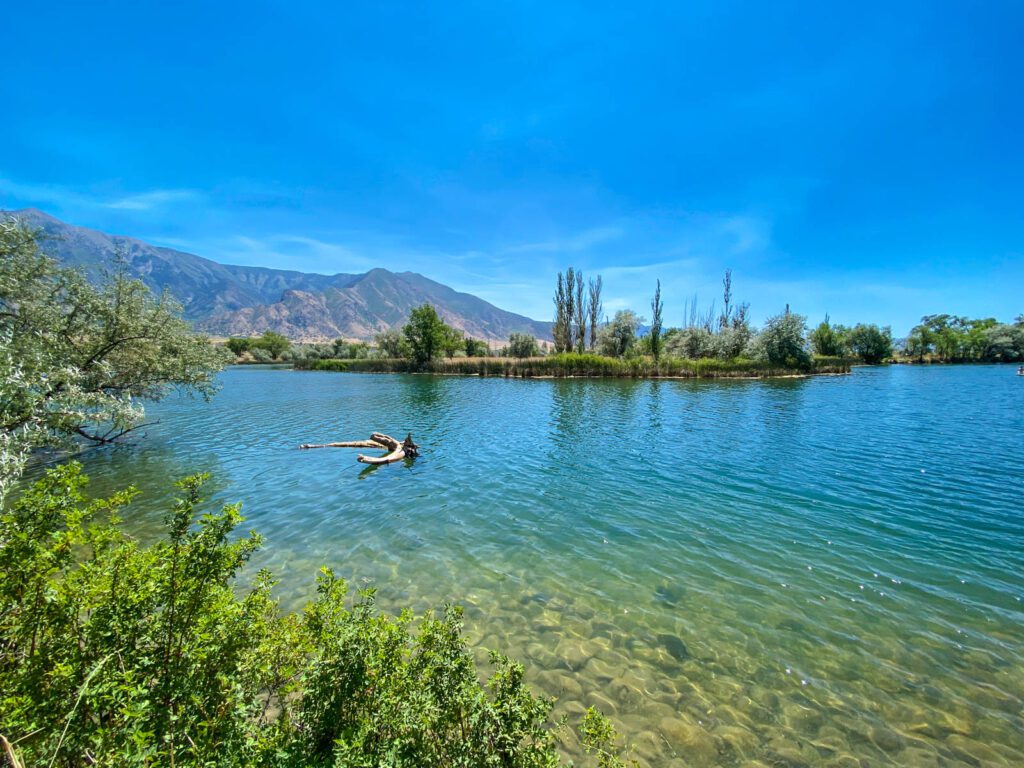 Dinner at Nebo Queen
After exerting yourself through hiking, swimming, or rock climbing, you're bound to have worked up an appetite! Nebo Queen Drive-Inn is a mom and pop that has been serving the locals and passerbys the best burgers in town for years! They also offer both hard and soft serve ice cream.
Directions: Head back to town and take a left on Main street. Nebo Queen is on the right just past 600 North.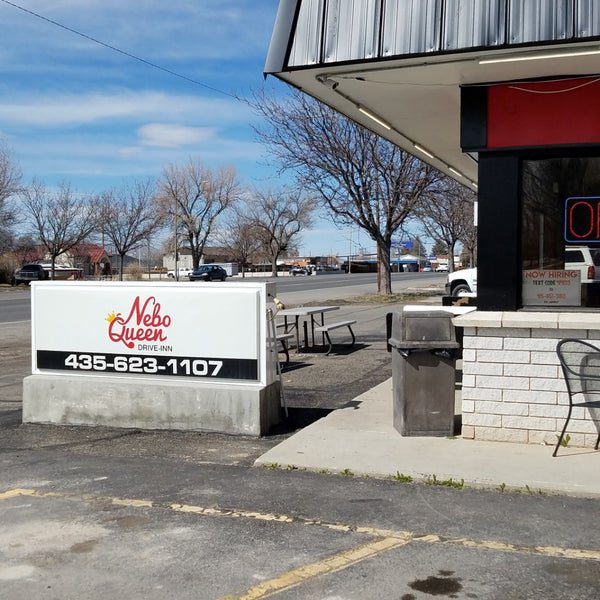 Rowley's Red Barn
Didn't want to get dessert at Nebo Queen? We've got another great ice cream spot nearby!
Family owned and operated, the Red Barn in Santaquin has been the home of fresh fruit, Country Spoon products, and an old-fashioned ice cream parlor since September 1999. Red Barn provides a neat atmosphere, giving its customers an on-the-farm experience while serving the best homemade ice cream.
Directions: The Red Barn is a little outside of Nephi, but it's perfect for those coming from up North as it will be on your way home. Head back on the freeway and look for billboards pointing to the Red Barn. Address is: 901 South 300 West, Santaquin, Utah 84655.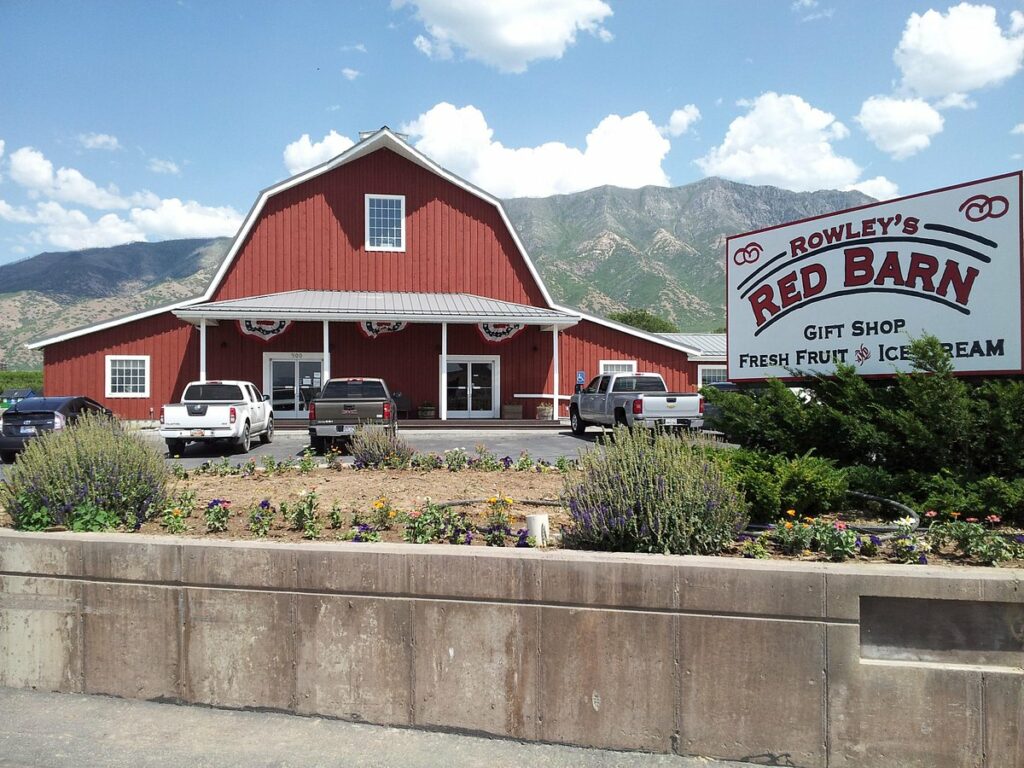 Alternate Route
Cutting your trip short? If you're headed back home during the daylight hours, take the alternate route back North on the Mount Nebo Scenic Byway. Gaze into the majestic views of the Utah Valley, Wasatch Mountains, and the Uinta National Forest.
The Nebo Loop Byway is extremely picturesque with many overlooks, and lots of wildlife. Take a peek at the Devil's Kitchen, a scenic red rock that contrasts excellently with the mountain greenery behind it. You can even make a pit stop there for a quick ½ mile hike.
**If you choose to take this route, this would add about 30 minutes to the drive time back north and would skip the Red Barn ice cream parlor.**
Skydive the Wasatch is happy to share the beauty of skydiving and aviation with you, and hope you enjoy the surroundings of our home. If you have questions about planning your Family Fun Day, feel free to give us a call at (385) 321-0284.
Did you take advantage of our Family Fun Day Trip? We'd love to hear your feedback! Send us an email at info@skydivethewasatch.com or leave us a review on Google!